This archived news story is available only for your personal, non-commercial use. Information in the story may be outdated or superseded by additional information. Reading or replaying the story in its archived form does not constitute a republication of the story.
KEARNS -- It's a sad reality, but people are scammed out of money all too often these days. Last week, KSL News talked to one such couple who purchased a truck online only to learn there was a lien on the title.
After our story, Amberly and William Thomas' situation quickly turned around. Now they have a set of license plates they couldn't be prouder of.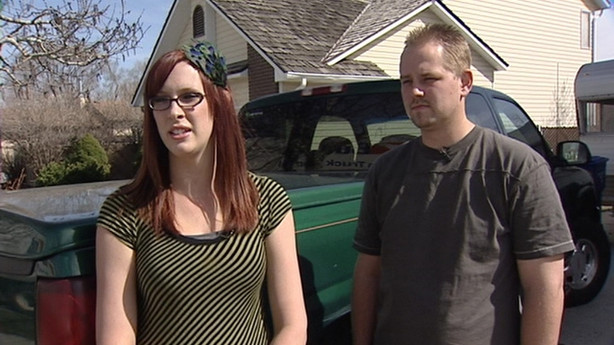 "It was a lot of stress there for a little bit, but we feel a lot better now," Amberly said.
The couple recently purchased a truck from a private seller on ksl.com. The seller gave them a title, but when they tried to register it the Motor Vehicle Enforcement Division told them the vehicle had a lien on it from a bad loan.
The seller, Soloman Rojas, wouldn't give them their money back, and it turns out it was the seller before him who placed the lien on the truck. So, the Thomases didn't really own that truck at all -- the bank did.
"When you buy a vehicle and you walk away with title in hand, you think that you're fine," Amberly said.
That's when the Thomases contacted KSL News. We tracked down the seller and contacted the DMV.
"The people that were holding the lien actually called us and told us that he came in and paid with a cashier's check," Amberly said.
After our story aired, the two previous owners told the Thomases they wanted to "do the right thing". The original owner paid off the lien, which meant Amberly and William could register their truck -- which they did.
The DMV has now launched an investigation into the original owner's actions. "It could be some felony charges of equity skimming and communications fraud," DMV spokesman Charlie Roberts said.
As for the Thomases, they're just relieved to actually now own the big green truck previously used as a yard decoration.
"We wouldn't have been able to do it without the news coverage, so we really appreciate that, so much, sincerely," Amberly said.
The DMV says this type of scam doesn't happen often, but it's a good idea to check with their office before you walk away, title in hand, to make sure it's legit.
Email: jstagg@ksl.com
×
Related Stories