This archived news story is available only for your personal, non-commercial use. Information in the story may be outdated or superseded by additional information. Reading or replaying the story in its archived form does not constitute a republication of the story.
OGDEN -- As thousands are gathering in Salt Lake City for the annual General Conference of The Church of Jesus Christ of Latter-day Saints, quite a few went to the Ogden temple to say goodbye. It will close Saturday for renovation.
It was a day for capturing one last memory of a beloved place of worship, a favorite landmark for many Ogden residents. Some are feeling sentimental.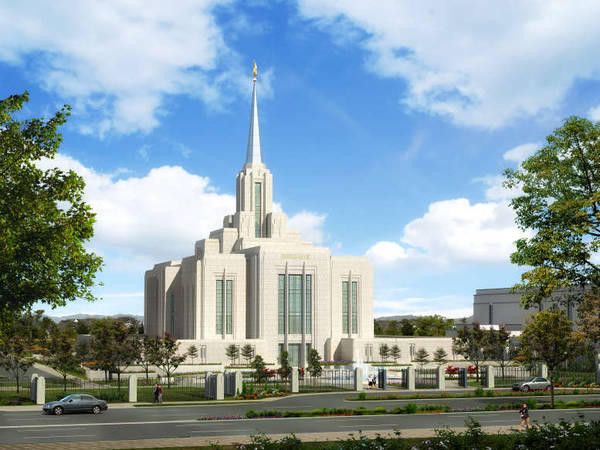 "I'm having a hard time today," said temple worker Kathleen Whiteley "I guess I just felt closer to the temple, working here and working with the lovely patrons that come here daily."
Dedicated in 1972, the Ogden temple is about to undergo a major renovation.
"It was just a wonderful experience, and we're going to miss that. But we are going to look forward to seeing the new temple come," said Audrey Henrie, who was visiting the temple Friday.
"We're just grateful we were able to come to the temple today and be here," said Tracy Young, who was also visiting the temple. "We love the temple and we're glad that we live close and excited to see the new changes."
The new design dramatically changes the exterior -- with a new shape, new stone, and new art glass. Last February, Church leaders announced the interior will change as well and have new electrical, plumbing and heating systems.
"We were married here," said Steve Campbell, who was visiting form Arizona. "We are up here for general conference, and so we decided to come to our temple today before it closes -- just because it holds special memories for us."
The Ogden temple is one of the busiest in the world, with 262,000 Latter-day Saints attending from northern Utah and Wyoming. At nearly 40 years old, church leaders say it's time for an upgrade.
"It's something I remember from my childhood, and it's just a good feeling," said temple visitor Mandi Patterson. "It's just special. So, yes, we'll miss it; but onward and upward."
That is exactly what the new design will do, take the eye upward. Renovation will take from 18 months to two years.
Email: cmikita@ksl.com
×
Related Links
Related Stories