This archived news story is available only for your personal, non-commercial use. Information in the story may be outdated or superseded by additional information. Reading or replaying the story in its archived form does not constitute a republication of the story.
(NBC News) -- A waterfront restaurant along Washington state's Puget Sound is used to getting all kinds of wildlife visitors, however one recent caller really left a mark.
"It was about 12:35 middle of lunch."
At Salty's on Alki, diners are used to feasting their eyes on the stunning view. But today in the restaurant parking lot..
Tim O'Brien, Sommelier: "I think it was a California Sea Lion. A big sea lion."
Baltazar Serrano, Employee: "Wow, It was a big ol sea lion. It was like over 300 pounds."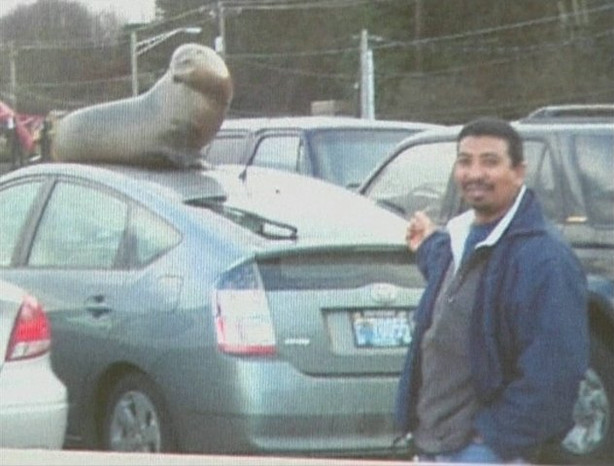 Tim O'Brien, Sommelier: "He was having a good time yeah."
Soon word started to spread through the restaurant...
Baltazar Serrano, Employee: "Balty Balty come over here..."
Tim O'Brien, Sommelier: "All of these windows were full of guests and employees."
Some ran outside with Tim O'Brien to see the sea lion soaking up the sun.
Tim O'Brien, Sommelier: "My guess is that the heat was reflecting off that car just enough to make it the place he wants to be."
Baltazar Serrano posed with the pinniped -- who seemed to like the attention.
Baltazar Serrano, Employee: "We tried taking pictures of it. it seems like she was posing."
But with the lunch hour winding down -- and guests starting to leave -- the staff at Saltys knew the sea lion had to go.
Tim O'Brien, Sommelier : "I had to get right up to the car and give him a shout and clap my hands and eventually hit the car with my hand to get him to understand he had to leave."
After a small bark -- and bearing his teeth -- the sea lion slithered off his perch
Tim O'Brien, Sommelier: "Eventually he found his way back down the bank into the water which is where he needed to be."
Before the sea lion left, he did leave his mark, a large dent in the top of the car.
×