This archived news story is available only for your personal, non-commercial use. Information in the story may be outdated or superseded by additional information. Reading or replaying the story in its archived form does not constitute a republication of the story.
SALT LAKE CITY -- When an Iraqi man refused a request from Saddam Hussein, he had to flee his country. Through the International Rescue Committee, he and his wife and children were able to come to Salt Lake as refugees. Now, he is once again pursuing his passion.
Ali Al Hammashi says he has wanted to be an artist since he was a small child.
"My mother used to make work in clay, so I was maybe 7 years (old) when I molded small animals or objects," said Ali. "I wanted to be an artist."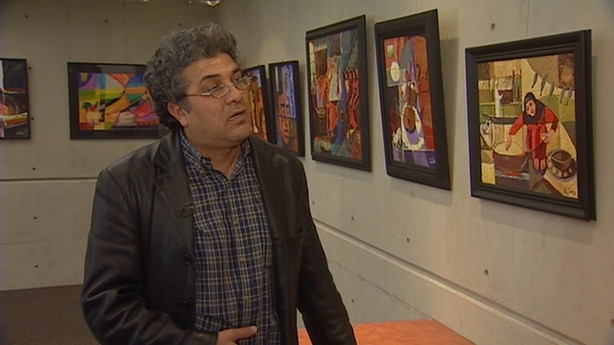 Because he remembers so much about this early life in Iraq, Ali Al Hammashi calls his paintings expressions of the magnificent world of women and children.
His rich colors and tender scenes represent the quiet moments in difficult lives.
"They don't have freedom (in Iraq) like in Europe or in America. Every time I look at the face for the woman, I see she is tired, she is sad," Ali said. "Life is hard. She works in the home and outside in the garden or farm. The husband is like the president for the family. The woman loves her kids, son or daughter, and hopes when her son grows in 20 or 25 years he can help her. But son goes to the war or to another country, and this is hard."
It's hard for children as well.
"The kids can't find toys. I remember we make the toy, like I make guitar, I make cars. My friend, the same. And when we go to school, the school is not the same as a school in Europe or in America," he said. "Now I am very happy because when I go to the school, I tell my kids, 'Your school is like a university in Middle East. You can say everything here.' Teacher very different in America, different than Iraq. Teachers in Middle East are hard, sometimes use rubber stick."
About the Exhibit
"Dreams of Color and Touch"
Artwork by Ali Al Hammashi
Opening Reception March 31, 7-8:30 p.m. Anderson-Foothill Branch Library 11315 South 2100 East, Salt Lake City

Exhibit runs through May 7
Ali had been a senior member of the Ministry of Education, building art programs in schools throughout Iraq -- but that ended suddenly.
In 2001, a government official said President Saddam Hussein wanted him to fix another artist's work, a large painting representing the regime on the side of a building. Because Ali disagreed with the regime, he refused.
"The problem is when someone tell me to fix painting for Saddam Hussein," Ali said. "I tell him, 'I can't, sorry, I can't do that.' He tell me, 'No, I want you to do that.' I say, 'No, I can't do that.'"
That official wrote Ali's name and address, so Ali soon after fled to Jordan with his wife and three children. There he continued to pursue art. During his first exhibit in Amman, he met a Utah Valley University professor who hold Ali he would love Utah. This professor became a sponsor when the family arrived as refugees through the International Rescue Committee.
"I see the people here is very nice and every time help me and help my family," Ali said. "Now I am very happy when I have this first opportunity for me to do this exhibition."
Ali Al Hammashi's exhibit "Dreams of Color and Touch" has an opening reception Thursday night at the Anderson-Foothill Branch of The City Library. The artwork will remain there through May 7th.
Email: cmikita@ksl.com
×
Photos