Estimated read time: 4-5 minutes
This archived news story is available only for your personal, non-commercial use. Information in the story may be outdated or superseded by additional information. Reading or replaying the story in its archived form does not constitute a republication of the story.
PROVO — The father of the classical piano-playing group the 5 Browns was ordered to prison Thursday.
Keith Brown, 55, was given a 10-years-to-life sentence for sodomy on a child, a first-degree felony, and sentences of one to 15 years for each of two counts of sex abuse of a child, a second-degree felony.
"I do believe you are a pedophile. I do believe you are a danger to society," 4th District Judge David Mortensen told him.
---
I do believe you (Keith Brown) are a pedophile. I do believe you are a danger to society.
–4th District Judge David Mortensen
---
#mortensen_quote
The judge was the only one who commented in court Thursday, saying that he hoped the Utah Board of Pardons and Parole would keep Keith Brown in prison for at least 10 years. He noted there could have been "many more charges" as the abuse was ongoing.
"I think it's obvious that a home should be a refuge and a safe place and a parent should be a protector," Mortensen said.
The judge ordered that the three prison terms be served concurrently.
Brown wasn't handcuffed but was escorted back into the holding area to be committed to prison. He made no comment in court Thursday, but did write what his attorney called "a statement of apology addressed to his family and the community" to the judge. The statement was not read in court.
Each of Brown's daughters also wrote victim impact statements, which were submitted to the judge.
Defense attorney Steve Shapiro said Brown drove to court alone Thursday knowing what sentence he would receive. The reason no other family members were present was a sign of that understanding, he said.
"I don't think it should be taken as his family was not supportive," Shapiro said. "I think they thought private goodbyes are much better than public ones."
He said his client takes responsibility for what he's done and hopes to see his family "reunified" someday.
---
Every step he's taken in the process has been geared toward taking responsibility, and today was another difficult step.
–Steve Shapiro, defense attorney
---
#shapiro_quote
"Every step he's taken in the process has been geared toward taking responsibility and today was another difficult step," Shapiro said.
Prosecutor David Sturgill said he was satisfied with the resolution because it was what the victims wanted.
"This is a resolution we discussed, and I hope they're happy it finally came," he said.
He agreed with the judge's comments,saying they were "spot-on." Sturgill also said all three of Brown's daughters are doing well.
"They are strong women, they are courageous women. But for good or bad, (Keith Brown) has changed the course of their lives," he said.
Brown pleaded guilty to all three of the charges in February, just weeks after they were filed. The charges and plea deal were part of an agreement reached between prosecutors, Brown's attorney and Brown's three daughters — Desirae, 32; Deondra, 30; and Melody, 26. Though the charges stemmed from incidents that took place in the 1990s, the sisters only recently came forward about the abuse, prompted by the news that their father was looking to manage musical acts.
Brown had previously managed the 5 Browns, but now has no connection as the children severed their professional relationship with their father in October of 2008. The siblings have been on tour and did not cancel any shows in spite of the criminal proceedings involving their father. They performed in Miami on Tuesday and had another concert date scheduled for April 1 in Orlando, Fla.
The daughters initiated the case against their father "out of concern for the welfare and protection of other young women and girls," said Kimball Thomson, a spokesman for the group.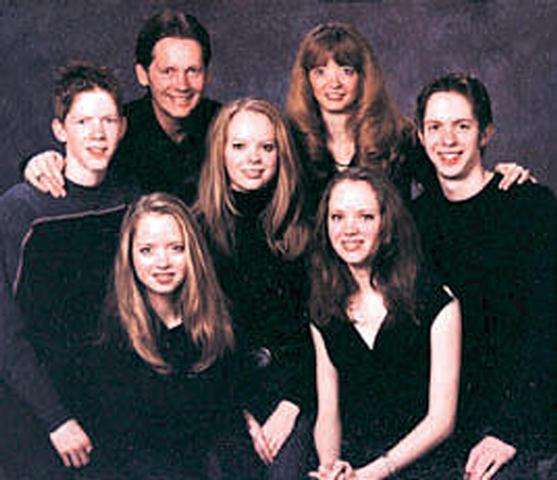 He said the daughters are "at peace" with the agreement and "relieved and grateful to close this chapter in their lives."
The sodomy charge involved oral sex incidents that occurred between November 1990 and October 1992, according to prosecutors. The other two sexual abuse of a child charges were in connection with fondling incidents between 1990 and 1992 and spanning 1997 and 1998. Prosecutors have said they were not isolated incidents and the abuse was ongoing. All of the girls were 13 or younger when the incidents occurred.
The charges against Keith Brown came to light following a car accident involving the man and his wife, Lisa, just four days after the charges were filed. The couple was returning home from a dinner at Snowbird when their vehicle plummeted about 500 feet off the main road and into Little Cottonwood Creek. It took rescuers more than two hours to locate the Browns and carry them to waiting medical helicopters. Both were seriously injured, though Keith Brown was able to appear in court a few days later.
Keith Brown had a second car accident March 3, after police say the convertible BMW 330ci he was driving drifted into another lane of travel in Highland on state Route 92 near state Route 74, causing a second vehicle vehicle to hit him.
When police talked to Brown, he said "he did not remember" the accident, according to a report. The 17-year-old driver of the other car told police that Brown "turned in front of him, causing him to hit" him, the report states. Neither Brown nor the teen suffered serious injuries.
The 5 Browns are a classical piano-playing group consisting of five siblings — the three girls and their two brothers, Gregory and Ryan. They were the first group of five siblings to attend The Juilliard School in New York City.
-----
Story written by Emiley Morgan with contributions from Shara Park and Randall Jeppesen.
×
Photos
Related stories
Most recent Utah stories