Estimated read time: 3-4 minutes
This archived news story is available only for your personal, non-commercial use. Information in the story may be outdated or superseded by additional information. Reading or replaying the story in its archived form does not constitute a republication of the story.
Ed Yeates ReportingBefore you pull the plug on your kid's video game, think of him or her as a surgeon. Believe it or not, there may be an upside to playing these games that you haven't thought of before.
Inside Salt Lake Regional Medical Center is a robot called DaVinci. He does exactly what you want him to do, but only when the coordinated hands and eyes of a human are at the other end manipulating the controller.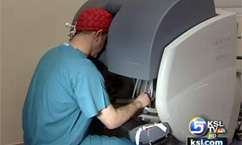 Dr. Blake Johnson is looking at a screen much like a kid would do, playing a video game. But as he moves his controllers, the robot DaVinci duplicates exactly what Johnson is doing with his hands.
Could kids who are now growing up playing video games be more adept at using this new technology?
"I think that they will catch on a lot quicker to some of the procedures we do and some of the laproscopic and robotic procedures that are done because they've played a lot of video games," Dr. Johnson said.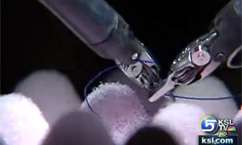 In fact, a new study in the Archives of Surgery says that perceived connection has evidence to back it up.
Jason Schwartz, M.D., of the University of Utah School of Medicine said, "People who played games more than three hours a week actually performed 42 percent fewer errors and actually completed the tasks 40 percent faster and with greater efficiency than those who had no video experience at all."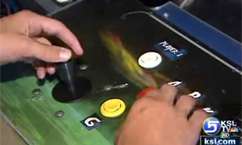 That's not to say every kid should play video games or that a kid who plays will make a good surgeon. The study simply implies hand-eye coordination is a real skill level the games help develop.
At our invitation and with help from Kelly Jones, medical students Maya Mespadden and Vai Jessop tried their hands at a consumer video game that challenges players to choose surgical tools, perform procedures and save a patient's life, all within a time limit.
Jessop said, "This is a whole new generation of kids growing up, learning how to control all of these electronic devices. The technology, at least for surgery, is starting to mimic that."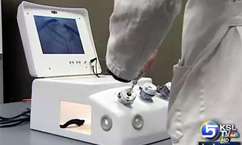 As a med student in the late '90s, Dr. Jason Schwartz at the University of Utah was part of a first-of-its-kind study looking at medical simulators to polish hand-eye coordination. Those interfaces are now in many classrooms across the country with more sophisticated devices yet to come.
When he can, Dr. Schwartz admits he still likes and plays video games.
Back to DaVinci. The long-range future of robotics is wide open.
Now imagine Dr. Johnson not sitting at the console only 10 feet away, but hundreds of miles away. The surgeon in a safe zone, moving a robot in a war zone. Or at a distant hospital in another country. Or aboard the space station or the planet Mars.
So, play on, Johnny -- within reason, of course.
While the study says video games improve hand-eye coordination, which is useful in surgery, the authors make it clear they do not endorse indiscriminate video game play or specific games.
×
Most recent Utah stories