Estimated read time: 2-3 minutes
This archived news story is available only for your personal, non-commercial use. Information in the story may be outdated or superseded by additional information. Reading or replaying the story in its archived form does not constitute a republication of the story.
Ashley Hayes ReportingFive car crashes this weekend resulted in three deaths and six serious injuries.
One of those fatal accidents took place in Provo, though police have yet to release any information on the accident. The others took place throughout the state.
An Ohio woman died in a three-vehicle crash on I-215 at 3900 South.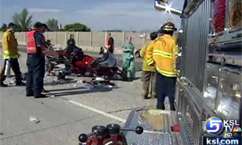 The woman and her husband were riding a motorcycle when a car in the lane beside them rear-ended another vehicle. As a result of the first crash, the car next to them lost control, swerved and hit the couple.
The motorcycle landed on the woman, who later died at the hospital. Her husband suffered minor injuries.
Troopers say the driver who caused the crash had been speeding and weaving in and out of traffic.
"If a speeding ticket or pending charges on a speeding ticket like this isn't scary enough for somebody, I hope that the thought of killing somebody is," said Sgt. Keith Dockstader of the Utah Highway Patrol.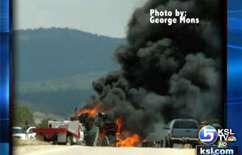 Another crash, this one on Highway 40 near Current Creek, occurred when a driver fell asleep at the wheel and drove his pickup head-on into an oil tanker.
The driver of the pick-up was taken to the hospital in critical condition. The passenger in the pickup and the driver of the tanker were not injured. Crews had to close the road for several hours.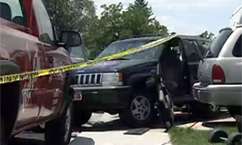 And an Orem toddler died when his mother backed her car out of the driveway and drove over him. The family rushed the 2-year-old boy to the hospital, where he died. Police said the woman had not been drinking even though they found empty containers in her car.
The Utah Department of Health has advice to prevent these kinds of tragedies.
"Spot the Tot" Tips
Walk around vehicle before getting in.
Know where children are.
Roll down window when backing up.
Teach children to move away from vehicles.
- - - - - -
×
Related links
Most recent Utah stories