Estimated read time: 2-3 minutes
This archived news story is available only for your personal, non-commercial use. Information in the story may be outdated or superseded by additional information. Reading or replaying the story in its archived form does not constitute a republication of the story.
SALT LAKE CITY -- A Salt Lake City man's bid to save his house from foreclosure led him to burn a car on public lands, which in turn led to a hefty fine.
John Maxim has owned his Salt Lake City house for seven years, but when he fell behind in his mortgage payments in the summer of 2010 the bank said they were going to foreclose unless he came up with $15,000.
Maxim devised an Internet scheme and explained in a YouTube video that he would torch his car and show the video online if people would help him raise the $15,000.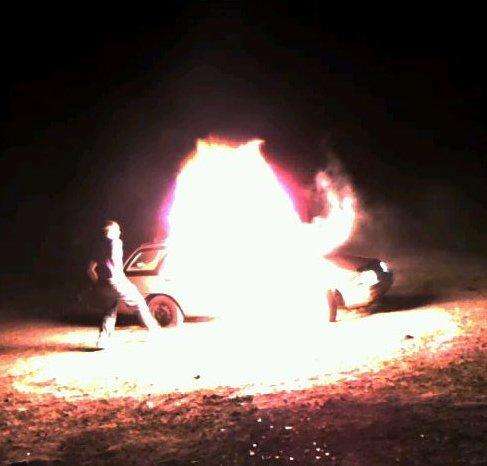 "I didn't really have any choices and I'll be honest, I didn't think it was going to work," Maxim said. "But I didn't just give up."
The plan worked. Maxim received about $20,000 in donations.
"I tried something that was a little crazy and unorthodox, but it did work," he said.
He kept his end of the deal. He burned his car at Lone Rock in Skull Valley, Tooele County. That's on BLM land.
"It is illegal to dump on public lands," said BLM field manager Jill Silvey. "It absolutely creates a public nuisance."
When the BLM heard about Maxim's plan, they followed him and eventually charged him.
Maxim pled guilty to two misdemeanor counts -- creating a hazard and a nuisance, and causing a fire other than a campfire. He was fined $1,000 and ordered to pay about $2,400 in restitution to the BLM.
"It's not OK to use public lands for these types of purposes," said Erin Darboven with the BLM.
Maxim contended there was nothing but barren soil at the location of the fire. Darboven says if others see damaged land, they might damage it, too.
"I am sympathetic to this gentleman's position. I just don't want him to dump on public lands."
This is the second incident in which Maxim was found guilty of creating a hazard on public lands. In June 2009, he advertised a large party at the same location. Party-goers burned household furniture including couches, mattresses and electronics in a large bonfire.
------
Story written with contributions from Alex Cabrero and Andrew Adams.
---
×
Photos
Related links
Most recent Utah stories