This archived news story is available only for your personal, non-commercial use. Information in the story may be outdated or superseded by additional information. Reading or replaying the story in its archived form does not constitute a republication of the story.
WEST VALLEY CITY — City leaders announced a new government transparency standard Monday that Mayor Mike Winder said will define the city as Utah's most open and accessible municipality.
Joined by the West Valley City Council, Winder outlined the city's seven-point "transparency standard" that will be discussed in City Council meetings in the coming weeks.
"In our free society, the people should have information relating to how they are governed," the mayor said, "and they should have a government that is open, accessible, transparent and honest."
Proposed actions include continuing to make government employees' salaries public; and altering campaign finance rules so those who fail to submit them on time "shall" — not "may" — be removed from the ballot.
Related:
The city also will continue to recognize text messages, instant messages and other electronic communications as public documents, making them subject to laws under the Government Records Access and Management Act.
"Being elected officials in the information age is exciting, but it also subjects us to operating in a fish bowl of sorts," Winder said. "As city leaders, we need to think before we text. … And our (residents) need to realize that when they communicate with the government, it becomes part of the public record."
A controversial bill passed by the state Legislature this year sought to restrict public access to such electronic communications. On Monday, after sustained public outcry against the measure, Gov. Gary Herbert and House Republicans called for a repeal of HB477.
Winder referenced HB477, though not by name, during Monday's news conference at West Valley City Hall, noting that open government currently is a hot topic in the state.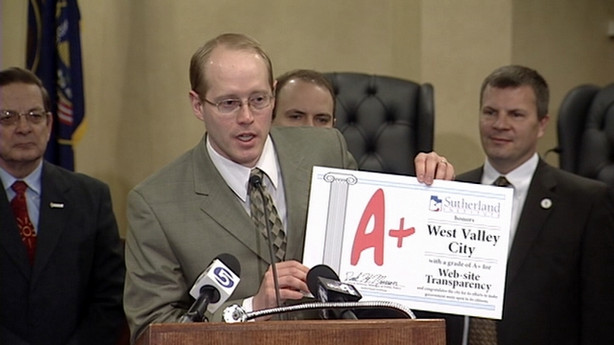 Also, one of the points in the city's transparency standard deals with excessive GRAMA requests — a topic used as a selling point for proponents of HB477.
Winder cited a GRAMA request from a developer in 2004 that ended up costing the city roughly $30,000. Of that, city officials only were able to collect $10,000, he said.
"We appreciate the Utah Legislature working on developing reasonable charges as part of the state GRAMA program that protects both the taxpayer and the right of the free flow of information in a free society," Winder said, acknowledging that those efforts are still under way.
"That balance needs to be struck," he said.
Winder said city leaders started to reevaluate the city's level of transparency in January, after the Sutherland Institute gave the city's website a B- grade. Through the new transparency standards, city leaders say West Valley can become the first city to get an A+.
The Utah Foundation for Open Government praised West Valley City for its new open government initiative and encouraged municipalities throughout the state to follow the city's lead.
"The people have a right to know and understand how they are governed, and West Valley City officials understand that," foundation President Linda Petersen said.
E-mail:jpage@ksl.com
×
Related Links
Related Stories