Estimated read time: 3-4 minutes
This archived news story is available only for your personal, non-commercial use. Information in the story may be outdated or superseded by additional information. Reading or replaying the story in its archived form does not constitute a republication of the story.
KEARNS — An unusual discovery by a Utah seventh-grader has caught the eye of one of the country's biggest research organizations.
The boy's science fair project uncovered an anomaly in his own family considered extremely rare by the National Institutes of Health.
The student, Manny Condas at St. Francis Xavier Regional School in Kearns, was going to do a simple science fair project on blood typing — your typical ABO and Rh blood groups. But he thought it might prove more interesting to test some red blood cell antigens in his own family charted under what is called the obscure Kidd Blood Group.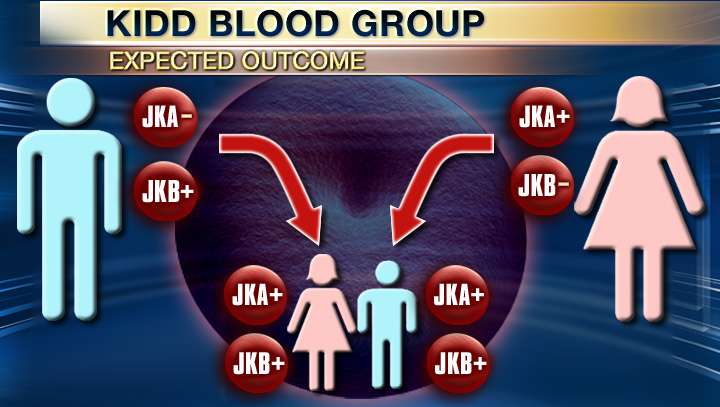 Blood was drawn via finger sticks. Manny used what is called a Punnett Square chart to predict genetic outcomes in offspring.
What he uncovered in his sister was highly unusual.
"At first I thought that I did something wrong because I'm not like a professional doing this," Manny said. "Yeah, I thought something was wrong and I made a mistake. But I did it again, and I found the same results."
Under Kidd groupings, you can have the "A" or "B" antigen or both attached to your red blood cells. What's expected?
If Dad has JKA negative and JKB positive while mom has the "A" positive and "B" negative expressions, Manny and his sister Maggie should inherit both "A" and "B" positive antigens. This is normal.
But not so with Maggie.
While she ended up with "A" positive, part "B" was missing.
In the Caucasian population, that's exceedingly rare. Though it's doubtful the finding could cause Maggie any harm, the National Institutes of Health simply wants to know more about why these anomalies occur.
"It's kind of weird to think this little science project from a Catholic school in Kearns, Utah, got the attention of the national people," Manny said.
With help from Intermountain Medical Center, Manny brought his science fair project to the hospital's Transfusion Service — where his mother works. Three backup tests confirmed his discovery.
"They got the same results through all the tests," Manny said, "so I'm pretty sure I didn't screw up because professionals did it."
It's possible Manny's dad may have a silent or what is called a null gene, and that was passed on to Maggie. She could have a weakened gene expression that's hard to detect, or something else may be happening.
Manny's mom, Becky Condas, believes "one thing the NIH might do is go to the molecular level and see what's going on with the actual genes in her genotype."
In any case, Manny's science fair project is a hit and has attracted a lot of attention.
"Science seems kind of fun," he said. "I mean, you get to do all the experiments. There's like chemistry and physics, and that's always been interesting to me. Maybe a scientist is what I will be when I grow up."
Vicki Simpson, who teaches science at St. Francis Xavier, couldn't be prouder of her student — and surprised just like everyone else.
E-mail:eyeates@ksl.com
×