Estimated read time: 2-3 minutes
This archived news story is available only for your personal, non-commercial use. Information in the story may be outdated or superseded by additional information. Reading or replaying the story in its archived form does not constitute a republication of the story.
SALT LAKE CITY -- Elevated levels of radiation have been measured outside the Fukushima Daiichi nuclear plant in Japan. Now it's coming our way.
The jet stream is carrying a plume from Japan to the United States West Coast, and possibly to Utah. But nearly all experts say there's no reason for concern here.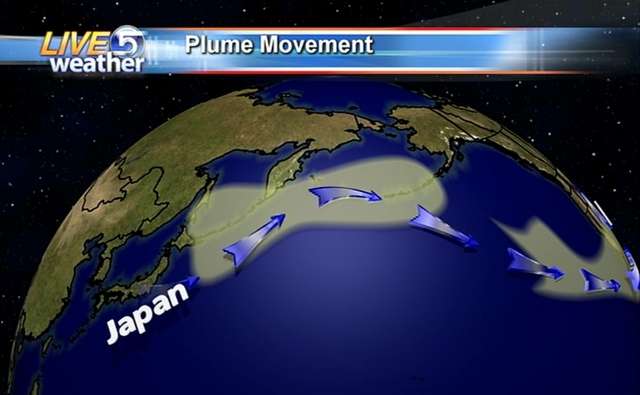 "At this point, I don't think so," said Peter Jenkins, medical physicist at University Hospital. He also chairs Utah's Radiation Control Board.
So far, Utah's network of radiation monitors has shown nothing unusual; only background radiation has been detected. Experts say it won't get significantly higher unless the Japan crisis gets a lot worse than it already is.
"I don't think people should be worried today," said Craig Jones, of Utah's Department of Environmental Quality.
Professor Joseph Lyon played a key role as a whistle-blower many years ago, linking thyroid and leukemia cases in downwinders to nuclear testing in Nevada. Even he's not worried, yet, about America being downwind of Japan. "Now I'd say 'no.' I'm not worried," he said.
Lyon said the key health issue would be radioactive iodine, which decays rapidly due to its eight-day half life. He says it will be greatly diluted during its passage across the Pacific Ocean and wouldn't harm anyone unless they drank milk from cows that grazed on contaminated pastureland.
Lyon doesn't believe anyone will get any significant amount. "Increased dose is going to be so small it's probably not even detectable," he said.
Jenkins said he understands the radiation level outside the Japanese power plant to be just 100 times what is considered normal background radiation. He believes it will be diluted about 1,000 times crossing the Pacific.
"It's still a fraction of our normal background radiation," Jenkins said, "and so we might not be able to measure it when it gets here."
State monitoring equipment did detect contamination from the Soviet Union's Chernobyl disaster in 1986, but at insignificant levels.
State officials predict a similar finding this time around. "Much more would have to happen before we should be worried," Jones said.
Lyon agrees, but is concerned about the situation in Japan. "Who knows what's going to happen three, four days from now?" Lyon said. "This thing seems to be evolving."
E-mail: hollenhorst@ksl.com
×
Photos
Related links