Estimated read time: 7-8 minutes
This archived news story is available only for your personal, non-commercial use. Information in the story may be outdated or superseded by additional information. Reading or replaying the story in its archived form does not constitute a republication of the story.
PROVO -- The fire at a Provo apartment complex which killed two people Monday night appears to be arson.
Utah County Jail records indicate Provo police booked 45-year-old Yvette Kimber into jail early Tuesday morning on suspicion of aggravated arson and two counts of manslaughter. When asked if she purposely set the fire, police say she told them she didn't know.
Yvette Kimber's arrest
Kimber called police late Monday saying she was suicidal and going to overdose on medication, according to a police affidavit filed in 4th District Court. One minute later, firefighters received a call reporting the blaze.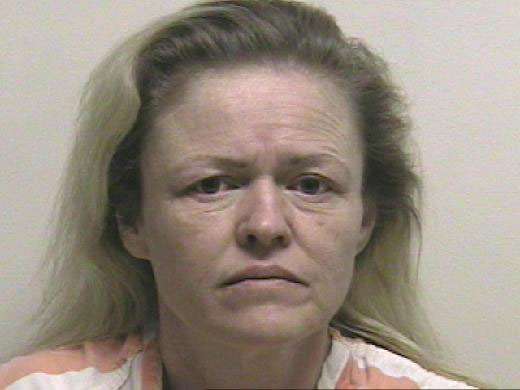 Court records show Kimber has a criminal history. She graduated from mental health court last November in connection with a shoplifting case. Court documents show she lived at the apartment complex that burned.
"Officers were able to locate Yvette Kimber near the front entrance to the parking lot. Yvette made statements to the effect that she fell asleep in her apartment with a cigarette," the affidavit states.
Police detained Kimber and two other people for questioning. Kimber told officers she had been in a fight with her boyfriend earlier and started taking pills and drinking beer, the affidavit states. She also said she was smoking marijuana.
She told police that she was sitting on the love seat in her living room, smoking and looking at a basketball schedule, when she dropped the cigarette. The love seat heated up and a throw pillow on the seat caught on fire. She then ran next door to a neighbor's home to report the fire.
"(Police) asked Yvette if she, because of her suicidal feelings, lit the fire on purpose," the affidavit states. "Yvette stated she did not know."
Victims identified
The women who died in the fire have been identified as Karen Murray and Catherine Crane. They lived in apartments 158 and 159, across a hall from each other. The suspect in the case lived in apartment 154.
Investigators don't know if the victims tried to escape or if the fire moved too quickly -- trapping them inside.
---
It didn't appear she was trying to get out. I was hoping she passed out early. I'm just devastated.
–Peggy Hardman, victim's friend
---
#hardman_quote
"Investigators will get into the apartment and they will try to determine what the surroundings were at the time of the fire and determine if they didn't have the ability or if they were afraid or if the fire was just too intense for them," Deputy fire Chief Gary Jolley said.
Peggy Hardman, who has lived in the complex for nine years, knew Crane, Murray and Kimber because they all lived in the same building. When she exited her apartment Monday night, Kimber's living room was engulfed in flames.
"When I saw Yvette's apartment, I could tell it was going to be a very bad fire," Hardman said Tuesday.
In the apartment above Kimber's, she could see Karen Murray looking through the window as though she was trying to figure out what was going on.
"It didn't appear she was trying to get out," she said. "I was hoping she passed out early. I'm just devastated."
She said Murray was a close friend who was very friendly and outgoing, but had kept to herself a little more as of late. Murray had just returned home from a Family Home Evening activity earlier Monday evening.
"She liked to do things to keep herself busy and help people," Hardman said. "She would volunteer."
Hardman said Crane earned money through making various craft items. She was known to hand out homemade Christmas gifts throughout the holidays even though she suffered from severe tremors.
"Catherine was very quiet, to herself, a very sweet person," she said.
As for Kimber, Hardman said isn't the sort of person she'd expect to be arrested for arson.
"I'm hoping it was just negligent," Hardman said. "She doesn't seem like a mean-spirited person. She'd offer people rides, do little things for people."
Witnesses describe the fire
Jeanette Spahr, 51, was hospitalized with burns and a broken pelvis after jumping from her second-story unit to escape the fast-moving fire.
Jessica Sager, Spahr's roommate, said she had fallen asleep on the couch when Spahr woke her up to warn her about the fire.
---
The smoke was all over her. If she wouldn't have jumped, she would have caught on fire.
–Megan Parsons, witness
---
#parsons_quote
"Jeanette told me, 'We've got to get out,' so I opened the door and saw all these smoke and flames came in so I knew we couldn't get out that way."
She said she struggled to remove the screen on the large front window, which had been bolted in.
"I don't even know how I got it out," Sager said. "Maybe adrenaline. Then I jumped out (from the second story). (Jeanette) didn't want to come out. She kept saying, 'I can't jump, I can't jump' and I said: 'You have no choice.'"
"You could see flames in the background and she just would not jump," neighbor Patric Bates said.
Spahr later jumped on her own, landing on her back. She suffered a broken pelvis and inhalation burns, said Provo Deputy Fire Chief Gary Jolley. She was taken to University Hospital's burn unit in critical condition. Jolley was unsure of her condition Tuesday.
Hardman said Spahr is disabled and walked with a cane. "She had to jump or die," she said.
"The smoke was all over her. If she wouldn't have jumped, she would have caught on fire," said Megan Parsons.
Michael Norris, who is engaged to Sagers, had been at work when the fire broke out. He returned home and couldn't believe the scene he found.
"It was just utter chaos," he said. "It was so chaotic it was unreal."
---
It's like everything you work for is gone. Everything we were trying to build is gone.
–Micheal Norris, tenant
---
#norris_quote
He said the apartment, which housed six cats and one dog, was totally destroyed.
"It's like everything you work for is gone," he said tearfully. "Everything we were trying to build is gone."
Norris and Sager moved to Utah in December after Norris lost his job in Idaho. Spahr is a close friend who allowed them to stay with her until they could get back on their feet. Now they're hearing she has third-degree burns on 16 percent of her body and everything they own is gone.
"I just looked at the building and the first thing I could say was: 'Why is it every time something starts going right, something else falls apart?" he said.
The couple said they believe the building's management should take responsibility for the lack of a fire escape route. Norris said his emotions have run the gamut from frustration with the building's owners, concern for Spahr and anger upon hearing it could have been arson.
"Whoever did this better hope (that) I don't when they get out of jail," Norris said.
The couple were provided shelter by the American Red Cross Monday night, but they don't know where they will go next.
Laurie Castillo of the American Red Cross said it provided shelter, food and beds to as many as 15 people overnight and was working to find places for the residents to stay.
"We're working on replacement furniture, clothing replacement, money for food," she said.
In all, six of the 16 units at The Boulders Apartments were a total loss the preliminary damage estimate of $750,000 is expected to be higher.
The fire was traumatic for many, Castillo said. One resident had already lost everything in a previous fire, other residents were good friends of the victims. "(Others) lived through the fire there two years ago," Castillo said, referring to a fatal fire in January of 2009 at the same apartment complex. "This is double trauma."
Jolley said that while he is aware of Kimber's statements to police about starting the fire, the official cause of the fire remained under investigation Tuesday and fire officials were working to determine whether the circumstances are "suspicious or not suspicious, intentional or unintentional."
"We're trying to put two and two together," he said.
Jolley said the two victims were discovered after firefighters from Provo and Orem knocked down the fire and went through the complex.
-----
Story written by Emiley Morgan with contributions from Shara Park and Randall Jeppesen.
×
Photos
Related stories
Most recent Utah stories