Estimated read time: 4-5 minutes
This archived news story is available only for your personal, non-commercial use. Information in the story may be outdated or superseded by additional information. Reading or replaying the story in its archived form does not constitute a republication of the story.
SALT LAKE CITY — It could be hours, days, even weeks before first responders could offer their assistance to individuals in the wake of a large-scale emergency.
That's why Utahns need be proactive to survive and endure the aftermath of a natural or manmade disaster, says Jeff Graviet, Salt Lake County's emergency services coordinator.
And when the big one hits, such as the 9.0-magnitude earthquake that devastated Japan this past Friday, people need to take simple steps to protect themselves during a seismic event, immediately afterward and in the days and weeks that follow.
---
If you can, get under a desk, some type of furniture or platform to keep stuff from getting on top of you. That's the first place you want to go.
–Jeff Graviet
---
Efforts are revving up to get food, water and shelter to quake and tsunami victims. Utah's Red Cross is in full fundraising mode -- sending cash only to Japan, not supplies.
"The cash actually helps in a couple of ways," said Maxine Margaritis, CEO of the Red Cross Utah region. "They don't have to sort through a lot of things they didn't really need. It also helps to keep the economy stimulated."
Emergency planners say it's important to use this disaster as a reminder to get educated on how to survive.
Graviet said video images of people in Japan, who in the throes of the recent earthquake were attempting to catch falling shelves and computer monitors, were instructive. Their energies would be far better spent taking cover, he said.
"If you can, get under a desk, some type of furniture or platform to keep stuff from getting on top of you. That's the first place you want to go," he said.
Getting into a door frame can also offer some protection. Here again, one should roll up in a ball, cover one's head with one's hands and wait until the shaking stops. "And keep in mind, there may be aftershocks," Graviet said.
If an earthquake occurs while one is in bed, the wisest course is to stay there until the shaking stops. Then, people need to put on shoes before venturing out of their bedrooms to reunite with other family members.
"If you think about it, things fall off walls, windows and glass fall out and break. Obviously, having some kind of protection on your feet is going to help you maneuver when it's dark and something like this has occurred."
Earthquake preparedness tips:
Designate out-of-state contact
Have 72-hour kits at work, home and in cars
Build up food storage
Events in Japan, where 10,000 people are presumed dead following one of the strongest earthquakes in recorded history, should also serve as a reminder to develop a family plan in the event of an emergency.
Graviet said communication systems can fail during emergencies so families need to designate an out-of-state contact who can help connect family members that may become separated during an emergency.
In the event your family must evacuated from your home, 72 hour kits are essential to survive the first couple of days following a disaster. They also help reduce the drain on public resources, he said.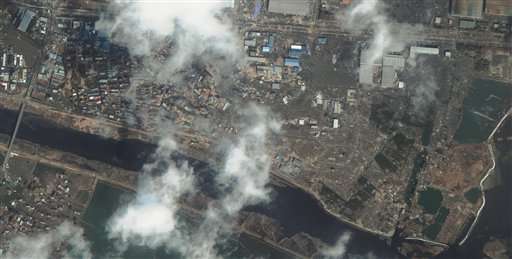 Graviet recommends keeping 72-hour emergency kits at work, in one's car and at home, with the latter stored close to an exit.
At the Graviet home, the kits are stored in a laundry room right off the garage. "I can leave my house, take my family and I'm self-sufficient for 72 hours."
The kits should include food, water, first-aid supplies, a flashlight, radio and cash.
Larger scale food and water storage in homes are also needed to weather emergencies of a longer duration.
"Sometimes we talk about emergency supply kits as 72-hour kits," said Layton City Emergency Program Manager Jim Mason. "I think that more and more we're seeing that in some of these disasters, especially these catastrophic ones, it takes a lot longer."
Fortunately, large-scale emergencies are rare. But Utahns have to be realistic about the daunting workload that first responders and others will encounter in the wake of such an emergency. These agencies are staffed for normal conditions. A large-scale emergency will tax their capacity in short order, he said.
Personal planning is a must, Graviet said.
"The problem with earthquakes is, you don't know it's coming. We have no warning it's going to be here unlike a hurricane. Even with the tsunami, there was some awareness it was coming.
"Everything you can do in advance is very important."
Red Cross fundraising is a bit behind last year's devastating quake in Haitin, possibly because Haiti was so desperate economically. Red Cross officials say we may be seeing what they call "disaster donor fatigue."
With so many disasters lately, donors may be tapped out.
Story written by Marjorie Cortez with contributions from John Hollenhorst.
×
Related links
Related stories
Most recent Utah stories