Estimated read time: 3-4 minutes
This archived news story is available only for your personal, non-commercial use. Information in the story may be outdated or superseded by additional information. Reading or replaying the story in its archived form does not constitute a republication of the story.
If you have photos of this wildfire you wish to submit, please send them to photos@ksl.comPHOTOS: Utah Wildfires 2007
Sarah Dallof Reporting
Yesterday was a make or break day for the Milford Flat Fire, and it appears the verdict is "Make."
Today the weather, with humidity and rain, is expected to help firefighters even more. Dry lightning could cause more problems, but so far the weather seems to be helping.
The Milford Flat Fire has grown to 351,000 acres, but crews are confident that favorable weather conditions will help them gain more ground. Right now firefighters have the flames 40 percent contained.
Yesterday, wind was a problem for firefighters when it grounded the helicopters. Norman Allen, Zion National Hellitack Coordinator, said, "It could be here and then on a division of this fire, they may not have the kind of winds we have here. So it just depends if we are able to get off the ground here."
Right now, the total cost of fighting the fire is estimated at $1.9 million. Helicopters can cost up to $100,000 a day to operate in a fire situation. It's an expense crews feel is well worth the cost.
The impact the F64 Sky Crane has on the fire is critical, especially in remote areas like Mineral Mountain.
Allen says, "Due to elevation and rough terrain, I would always see it as a place you don't want to put people."
The Sky Crane costs $25,000 a day, in addition to the 200 gallons of fuel at every fill-up. Here's the trade-off though: it carries 3,500 gallons of water.
"They have a water source down here on the east end. We've been able to run water all the way across to the other side of I-15," Allen told KSL.
The Sky Crane is one of four helicopters the Zion Hellitack team set up on the first day of the fire.
"We had no idea whose field it is. It was, just one day, they said, 'Set up a helibase,' and this was the location they gave us," Allen said.
Now, the field has been transformed into a mini airport with irrigation water pumped in and engineers checking engines.
Hellitack bosses have requested more helicopters, but they probably won't get them. Even though Milford Flat is the largest fire in Utah's history, it's not the most important.
Michael Ree, a Zion Hellitack supervisor, says, "There are other fires that are actually taking all those helicopters, or get the first dibs for those helicopters, basically."
Even so, the Hellitack team is more than making due with what they have, making trip after trip, to get water where it's needed most.
Most of the firefighters are out right now, but there are about 500 of them on the scene; that doubled the population of Kanosh, and it's making a big impact on the economy there.
At the Kanosh Mercantile, expect to be greeted with quick service and an even quicker smile. Their friendly customer service is just that, good, old-fashioned service. They have no competition. They're the only shop in town. Deb Watts, mercantile employee, says, "We're on first name basis with everybody, they're regulars."
But lately there have been strangers. Watts says when the fire camp came in, it doubled the population of Kanosh.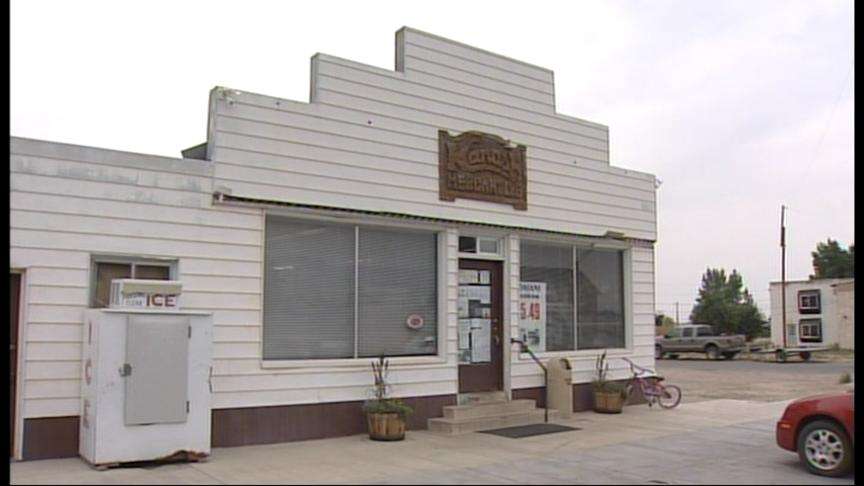 With the camp located less than a block from the mercantile, business is booming. She says they buy more in ice every day than the store probably sells all year.
Fire officials also put in orders every morning for energy drinks, and fire crews come in for the treats they can't get in camp. They also buy things like toothpaste and razors. The only hang up is the store doesn't take credit or debit cards.
Back to the fire, if you're driving through this area today on I-15, you'll still want to be very careful. The interstate is open, it has been for days, but we're hearing reports of smoke and soot occasionally blowing across the area, so be sure to drive slow, turn on headlights and keep an eye out for firefighters and fire personnel.
×
Most recent Utah stories