Estimated read time: 2-3 minutes
This archived news story is available only for your personal, non-commercial use. Information in the story may be outdated or superseded by additional information. Reading or replaying the story in its archived form does not constitute a republication of the story.
If you have photos of this wildfire you wish to submit, please send them to photos@ksl.comPHOTOS: Utah Wildfires 2007
Alex Cabrero Reporting
The Mathis fire is getting a lot of attention because it's burning near coal mines, but there's good news on it today. The fire is 95 percent contained right now, and firefighters expect full containment tonight.
More than 250 firefighters have worked aggressively on the Mathis fire. It has scorched 1,300 acres near Price, and they don't want to see it grow more.
Today, Mother Nature helped firefighters, but in the process, made it tougher on them.
It was a nonstop fight, first with fire, then, ironically, with water. While crews were busy fighting the Mathis fire, burning 10 miles north of Price, Mother Nature was busy helping them, or was she?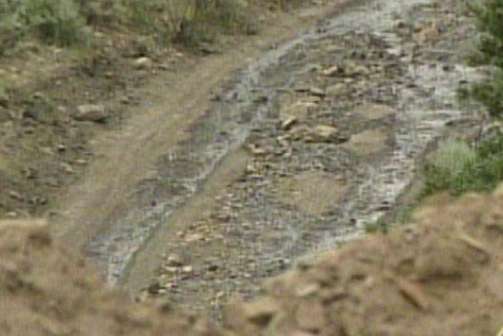 Mary Christensen, with the Bureau of Land Management, said, "This rain has been great, as far as the fire goes, but it has presented a safety issue."
That's because the terrain is so steep and rocky, crews had a tough time getting around on foot.
Duane Turk, with the fire support team, told us, "We knew it was coming, but we got stuck up on the top of the hill anyway."
While they were stuck, vehicles had it rough in all the mud.
Firefighter Tim Perren said, "We were not prepared. We had no chains, we didn't have that kind of stuff we need to deal with this kind of thing."
It seems a little backwards, firefighters having too much water while battling a wildfire, but so much all at once, sometimes, can be just as dangerous. Not only were crews dealing with fire, water and mud, but when they were on the mountain, they were also dealing with hail and lightning. Just like they do when a fire changes, the crews adapted to the weather.
Still, they'd rather have rain than not.
Firefighters from several states are helping to fight the fire. The crew we spoke with today was a mixed team, from Montana, Idaho and Missouri. They expect to have the fire completely contained by tomorrow night. There have been no injuries and no structures burned down.
×
Photos
Most recent Utah stories