This archived news story is available only for your personal, non-commercial use. Information in the story may be outdated or superseded by additional information. Reading or replaying the story in its archived form does not constitute a republication of the story.
SALT LAKE CITY — Former Utah Sen. Jake Garn, R-Utah, said Wednesday he is extremely saddened at the "retirement" of Discovery, the world's most traveled spaceship that ferried him around the Earth 110 times in seven days nearly 26 years ago.
Discovery completed its 39th and final mission just before 10 a.m. Wednesday, making a successful landing at the Kennedy Space Center in Florida, shutting the door on 27 years in space with a track record of 148 million miles logged.
The space shuttle will be decommissioned and then offered on display at the Smithsonian, which Garn said is a fitting tribute.
---
The magnificent beauty of our planet ... it makes you realize how insignificant we are here on Earth and you wonder why we don't treat each other better.
–Jake Garn
---
Still, he said it is a "huge, huge mistake" for the U.S. government to turn its back on the 30-year-old space shuttle program that is being shuttered because of operational costs.
"NASA constitutes less than one half of 1 percent of the federal budget," Garn said, adding that the congressional will to de-fund the program is a decision "I don't even comprehend."
A career military pilot with the U.S. Navy and a retired brigadier general in the Utah National Guard, Garn was invited by NASA to be a payload specialist aboard Discovery on flight in April of 1985.
"I remember every detail," Garn said. "It was the ultimate flying experience to orbit the Earth."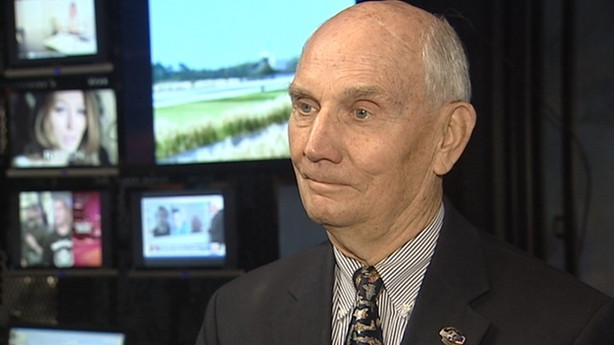 He continued, "My wife says someday, when i have Alzheimer's and can't remember who she is, I will remember every detail of my space flight. It's just impossible to describe what it's like."
Traveling at 17,500 mph, Discovery took its crew through an awe-inspiring array of experience, he said.
"There were 16 sunrises and 16 sunsets every day, with 45 minutes of daylight and 45 minutes of darkness. ... It is impossible to describe what it is like."
Garn said such views remain vivid for him and continue to persist as an incredibly humbling experience.
"The magnificent beauty of our planet ... it makes you realize how insignificant we are here on Earth and you wonder why we don't treat each other better."
The great advances in space exploration that have been made over the decades should lure the United States to continue in that effort, he added.
"It makes no sense to be dependent on Russia" to get U.S. astronauts to the International Space Station, he said.
"The explosion of technology is so rapid," Garn said, that the country's young people have to be ready to explore those unknown opportunities.
"I was just a 26-year-old Navy pilot in Japan" when the Soviet Union launched Sputnik — the world's first artificial satellite — into space in October of 1957. Garn said he remembers thinking it was an "oh, wow" moment for him at the time, "never dreaming" that three decades later, he'd be in space.
"I am sad not only for Discovery, but sad for the technology we lose in all of this."
E-mail:amyjoi@desnews.com
×
Photos
Related Stories