Estimated read time: 2-3 minutes
This archived news story is available only for your personal, non-commercial use. Information in the story may be outdated or superseded by additional information. Reading or replaying the story in its archived form does not constitute a republication of the story.
Carole Mikita ReportingThe remarkable life of a Utah man who died nearly two decades ago is featured in a new book. Monsignor William McDougall was a war correspondent who was taken prisoner in World War II. That's when he made a pledge that defined his life.
Salt Lake native Bill McDougall found his dream job as a war correspondent.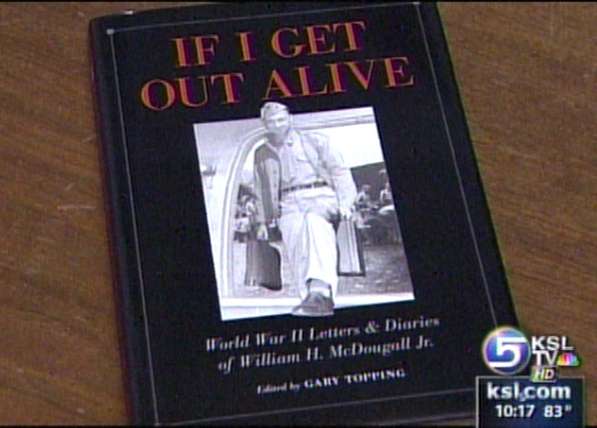 Diocesan Archivist and editor of "If I Get Out Alive", Gary Topping, Ph.D., said, "He comes across as just a brash, cocky, young newspaper reporter. You know, full of himself and certainly ambitious. He saw this, probably the greatest story of the 20th Century, I guess, and he wanted to go cover it."
That story became deeply personal when, Mac, as family and friends called him, was captured and spent three years in POW camps in the Philippines. He drew pictures, produced a newsletter and kept diaries.
"This diary, as far as I'm concerned, is just almost a unique document, in showing day-by-day the kind of stresses that a person was under, under those just horrific circumstances," Topping says.
Through witnessing death and deprivation, McDougall's faith deepened there. He promised the Lord, "If I Get Out Alive." That's the title of a new book that Gary Topping compiled from McDougall's writings.
On June 16, Tuesday, 1942, he writes. "Weighed 55 kilo, 121 pounds, 2 kilo less than a few weeks ago."
Topping says, "I guess the thing that impresses me most about him is that he just never gave up, he always remained optimistic and retained a sense of humor."
When his camp was liberated, he kept his promise, became a priest and eventually the rector of the Cathedral of the Madeleine.
Monsignor McDougall wrote two books about his experiences. This new one brings more of the story, his private miracle that he turned into service for his fellow man.
"If I Get Out Alive" was published by the University of Utah press and can be purchased at the U's bookstore next week.
×
Photos
Most recent Utah stories