Estimated read time: 2-3 minutes
This archived news story is available only for your personal, non-commercial use. Information in the story may be outdated or superseded by additional information. Reading or replaying the story in its archived form does not constitute a republication of the story.
Tonya Papanikolas ReportingThere was a brazen crime in broad daylight as a passenger got off a TRAX train today. The armed robbery comes on the heels of an Eyewitness News investigation that uncovered the prevalence of crimes in and around TRAX lots.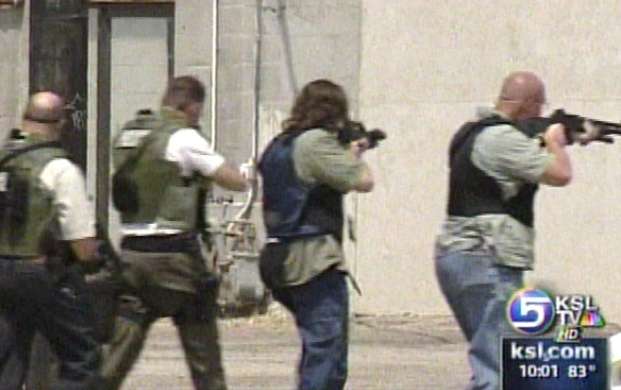 This afternoon the suspect apparently noticed a passenger's wallet and pointed a gun at him. It happened at the 2100 South station. The passenger told us he was shocked and scared when the man held the gun up to him. Keep in mind, this was just before 2:00 in the afternoon.
Patrick Young, the victim, said, "He pulled a .357 out and put it into a bag, and basically, just robbed me. 'I saw your wallet,' you know. He held the gun up to me and everything else."
The thief grabbed Young's wallet, which happened to have $300 in it. "I just gave it away and called the police," he said.
While he did that, the Utah Transit Authority says one of its officers was pulling into the TRAX stop and Young flagged him down.
South Salt Lake Police Captain Tracy Tingey says, "UTA responded, set up a containment of the area."
UTA Spokesman, Chad Saley, said, "By setting up that initial perimeter and keeping the general public out of that area was the number-one thing that was done."
The suspect had taken off running, though. UTA called in backup from South Salt Lake police. About 30 officers from several agencies brought in their guns and started searching. Officers searched buildings like a nearby club, as well as fields, but they didn't find the suspect.
UTA wants people to know robberies are not a common occurrence. They tell us this was their fourth TRAX robbery this year.
In April, KSL investigated crime at TRAX lots and over two years found hundreds of stolen and vandalized cars, dozens of robberies, a rape and lewdness. UTA says that's actually low when you compare numbers to the rest of the county.
"We have an extremely low, low rate of crime on the trains," Saley said.
In the first six months of last year, UTA had four robberies, compared with more than 600 in all of Salt Lake County. They say they don't see a need to change.
The suspect is between 18 and 25 years old, has a dark mustache and goatee, and he was wearing blue jeans, a baseball cap and a red and blue striped shirt.
×
Most recent Utah stories