Estimated read time: 2-3 minutes
This archived news story is available only for your personal, non-commercial use. Information in the story may be outdated or superseded by additional information. Reading or replaying the story in its archived form does not constitute a republication of the story.
John Hollenhorst ReportingOne of the key reasons the Milford Flat fire exploded over the weekend is because of, well, aliens. An alien species of grass was a primary fuel.
It was a big worry before, and now there may be a bigger concern. The problem is Russian cheat grass. It's taking over western rangelands, causing bigger and bigger fires. Now that so much has burned, the big worry is dust that you might be breathing on I-15.
When cheat grass burns, it can go up like gasoline. That's what fed the fury over the weekend.
BLM Resource Advisor Craig Egerton said, "Largely, cheat grass driven. Cheat grass and wind."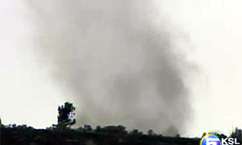 After the flames move on, dust devils stir the pot.
"We'll probably be getting dust reports from people thinking it's smoke from re-burn after this thing's long gone out," Egerton said.
BLM officials are already plotting strategy for a massive reseeding of the fire zone.
"Obviously we've got a disaster here. We've got about 300,000 acres that are burned. We can't possibly reclaim it all. There's just not enough money to take care of all that," Egerton explained.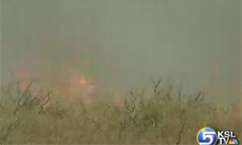 Cheat grass is like a plague on western rangeland. It's invaded vast stretches of the Intermountain West, making it far more prone to fire, and then, to dust. Dust plumes could haunt this area for years if there isn't effective reseeding with native grasses.
"We're concerned about soils blowing near Interstate 15, and causing safety problems on down the line," Egerton said.
The cheat grass problem has become so extreme that the government is proposing an unprecedented plan, attacking it all over the West with chemical herbicides.
BLM Field Manager Todd Christensen said, "Simply because we're turning our native range into cheat grass fields, which are just going to burn every few years. And they're just going to be explosive. We're trying to cut the fire cycle."
Governor Jon Huntsman urged short-term action here, putting a positive spin on a 300,000-acre disaster.
"We have a very unique opportunity. If there was a silver lining in the cloud, it is an opportunity to reseed this vast area, which has now become almost moonscape as a result of the fire," the governor said.
There's a big Catch-22. The dust problems are likely to be severe this summer. But serious reseeding has to be done in the fall when there's moisture. And lest you think dust is only a local problem, I recall years ago when a reseeding in this area failed, and dust plumes stretched all the way to the Salt Lake Valley.
×
Most recent Utah stories