This archived news story is available only for your personal, non-commercial use. Information in the story may be outdated or superseded by additional information. Reading or replaying the story in its archived form does not constitute a republication of the story.
SALT LAKE CITY – Low-income advocates rallied Tuesday on Capitol Hill against raising the sales tax on food as lawmakers looked at limiting budget cuts to just 1 percent.
The Senate has already passed SB270, which would restore the sales tax on food reduced by lawmakers in past years while cutting the general sales tax rate to offset the increase.
Wednesday, a House committee will hear HB282, which also would increase the sales tax on food and decrease the sales tax on everything else, plus provide a tax credit for low-income Utahns.
Both bills are considered revenue neutral, bringing in the same amount of sales taxes collected overall. Backers say the change is needed to broaden the sales tax base.
Protesters rally against food tax bills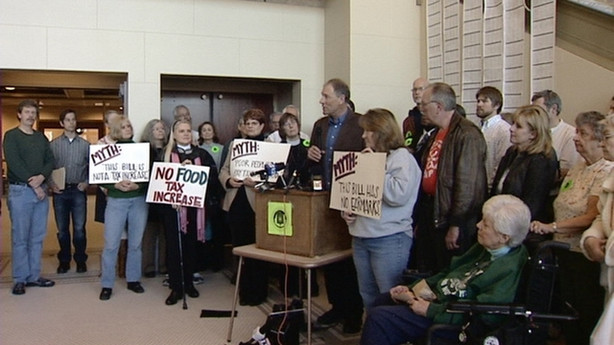 But the 40 or so people gathered in opposition said the bills will result in a tax increase for the vast majority of Utahns, benefiting only those who can afford to make expensive purchases.
"Those are the families that buy lots of jewelry, lots of Jeeps, lots of furniture, lots of Ferraris," Linda Hilton, director of the Coalition of Religious Communities, said. "Those of us who buy food and toilet paper stand to suffer."
An analysis provided by the opponents showed that the typical Utah family of four would pay an additional $240 a year in food taxes. To get that much back in general sales tax savings, they said, that same family would have to spend more than $68,000.
The sponsor of HB282, Rep. Kay McIff, R-Richfield, questioned that calculation. "That is not true," he said, noting food sales amount to only 10 percent of the tax base.
McIff said he's abandoning a plan to raise some one-time money to help public education by delaying the decrease in the general sales tax rate. "There's no appetite for it," he said.
Leadership presents budget proposal
House and Senate GOP majority leadership presented a budget proposal to their caucuses Tuesday that doesn't call for any new revenue sources or even using any of the state's Rainy Day fund.
They want to add back most of the 7 percent lawmakers cut in the preliminary base budget from Gov. Gary Herbert's $11.9 billion spending plan and fund enrollment growth in public schools.
Leadership's proposal, which has the backing of Senate Republicans but is still being debated in the House GOP caucus, eliminates most of the so-called $313 million structural imbalance.
That imbalance, resulting mostly from an end to federal stimulus funds, was the reason behind the 7 percent in budget cuts. Herbert wanted to rely largely on continued economic growth over several years to make up the shortfall.
House Budget Chairman Mel Brown said there's still a debate over whether to fund new buildings. Money could come from bonding, or from making self-employed Utahns pay their income taxes quarterly rather than annually.
That change, sought by the governor but already opposed by the House caucus, would accelerate income tax revenues by some $130 million in the new budget year that begins July 1.
Also undecided in the House is the fate of raising the food tax.
"I think it has an uphill battle," said House Majority Leader Brad Dee, R-Ogden.
Brown, too, said that may not get through the House.
"It shifts who's paying the tax and that's why it may not fly in the House," the budget chairman said. "Now, I don't think, is the time to change it back. We're still in an economic crisis."
-----
Story written by Lisa Riley Roche, with contributions from jdaley@ksl.com.
×
Related Links