Estimated read time: 3-4 minutes
This archived news story is available only for your personal, non-commercial use. Information in the story may be outdated or superseded by additional information. Reading or replaying the story in its archived form does not constitute a republication of the story.
**If you have photos of this wildfire you wish to submit, please send them to photos@ksl.com.**Sam Penrod Reporting
It's high on the nation's priority list. And the largest Utah wildfire ever is still burning out of control.
The Milford Flat fire is leaving a big black mark over almost 500 square miles. That's about the size of the Salt Lake Valley.
The firefighters are getting some well-deserved sleep after a hard day's work. But it paid off.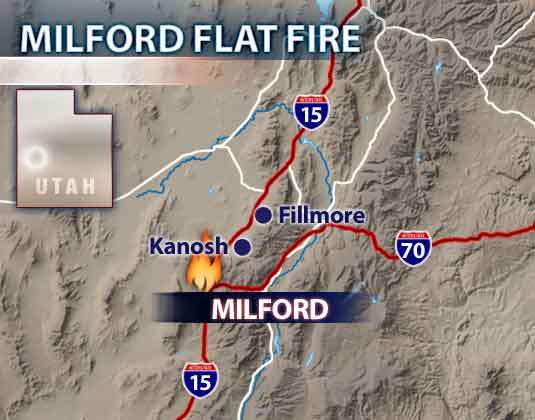 The fire is now 10 percent contained and is slowing down. The latest estimate is now 311,000 acres have burned. And it may take another ten days until the fire can be 100 percent contained.
The Milford Flat Fire started Friday near Milford in Beaver County and quickly burned northeast across the county line into Millard County toward Cove Fort and Kanosh.
The numbers are telling: two people have died, one home and two other buildings have been destroyed and at one point 330 structures were threatened.
The fire stretches from Milford on the south to Kanosh on the north.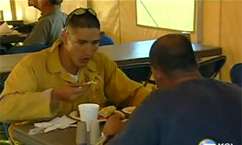 Tired, weary and hungry after a day on the fire lines, these firefighters are rewarded with a meal of pasta and somewhere to sleep. They've made the Kanosh park their home, while the battle the biggest wildfire in Utah's history.
Alex Cardenas, a firefighter from Oregon, said, "It was really, really hot. It's big. It's humongous. We walked probably like four to five miles out and back."
Priority number one is keeping the fire from jumping I-15. Fire Incident Commander Rowdy Muir says, "Basically, we've put all of our ducks into containing the fire from moving south and moving east and keeping it off of Interstate 15." The highway was closed for several hours on Saturday and Sunday.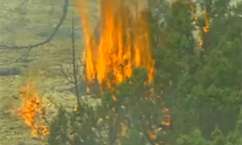 Muir leads what is known as a Type 1 team, reserved for battling the most serious fires in the country, but still he has to fight to get resources here. "We are trying to move people to other incidents besides this one, so we may or may not see a large influx of resources, depending on where the priorities are right now," says Muir.
Monday, 250 firefighters were out on the fire lines and another 200 were on the way. Helicopters and airplanes worked the fire from the air.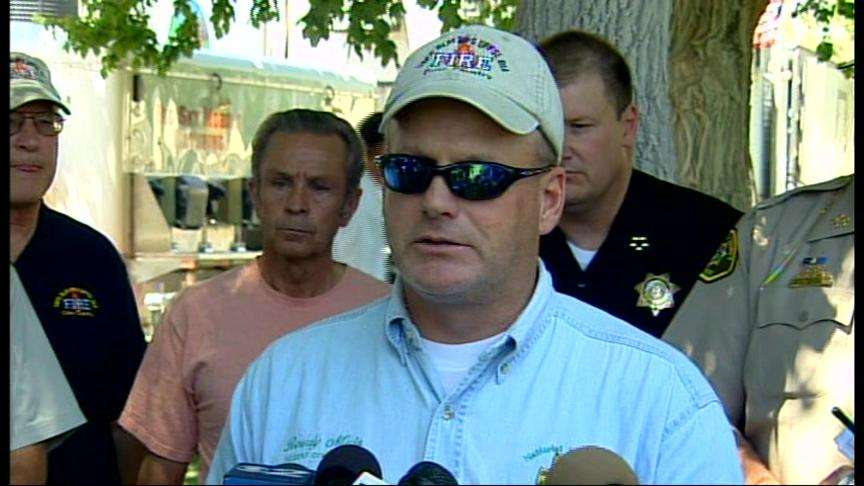 Muir has been authorized to spend up to $12 million, although he hopes to get the job done by spending less than $5 million on a fire that - in the eyes of the national fire center - is a top priority. "We are sitting number two in priority nationally, so hopefully that will get us some resources here. In the meantime, we do what can with what we have," he says.
They are hoping for another 13 teams of 20 firefighters each in the next day or two. Even with more help, the fire commander still expects it will take to 10 days before he has full containment on this fire.
Governor Huntsman considers this fire so serious, he traveled to see it himself, even though he is suppose to be home recovering from shoulder surgery.
"It's a very large fire geographically," he said. "I would say the largest in the world right now. Everyone has pulled together and so far as I can tell, doing everything possible given the size and complexity of this fire."
And for those whose livelihoods are threatened by this fire, they watch and wait, hoping for relief.
Rancher Lee Yardley said, "It's the biggest one I've seen. It's moving pretty quick, and it's hot. It's pretty hot."
×
Photos
Related links
Most recent Utah stories