This archived news story is available only for your personal, non-commercial use. Information in the story may be outdated or superseded by additional information. Reading or replaying the story in its archived form does not constitute a republication of the story.
SALT LAKE CITY — A tedious but critically important afternoon of jury selection wrapped up late Monday in the Tim DeChristopher trial, with attorneys settling on a panel of eight men and four women to hear the case.
DeChristopher's trial begins with jury selection
Before the trial began, DeChristopher said he was "nervous" but declined to predict a possible outcome.
The trial got off to a bit of an unusual start. Court proceedings started about 30 minutes late. Then once inside, the judge and the attorneys from both sides gave DeChristopher supporters a stern warning, saying court is not the place for a public statement and that they need to act civilly.
They also told protesters they wouldn't be doing DeChristopher any favors by disrupting the trial or tainting the jury.
The 12 jurors — plus two alternates — were culled from a pool of 70 prospective jurors, who were subjected to screening on Friday by attorneys from both sides and will return to court for opening statements on Tuesday morning.
Protesters fill Salt Lake City streets
Outside, supporters of DeChristopher joined in song, beating on drums, dancing or whirling Hula-Hoops in a festive atmosphere not deterred by the cold. The throng eventually crossed Main Street and continued to sing songs in front of the court house before a heavy police presence.
Most carried placards that read "No. 70," in solidarity of the number issued to DeChristopher when he decided to bid on more than a dozen parcels of land at an oil and gas lease sale put on the Bureau of Land Management.
---
I appreciate their support, I really do. It's been really important to see that.
–Tim DeChristopher
---
#dechristopher_quote
Ultimately, DeChristopher ran up nearly $1.8 million in bids, and has said he had no intention of paying them, but rather the act was one of civil disobedience. After a review that lasted nearly four months, the U.S. Attorney's Office filed two criminal charges against DeChristopher, alleging he violated the provisions of an onshore oil and gas leasing act and deliberately made a false statement. If convicted, the charges could carry up to 10 years in prison.
Since making his stand, DeChristopher has been dubbed a hero by a throng of supporters — both in Salt Lake City and around the country — who say he shouldn't be punished for standing up for what he believes is right.
"It's been kind of a turning point for change," said Steven Dunn, 25, of Salt Lake City.
"It is time we take a stand for what we think is right, even if we face adversity or prison. We have to make our voices heard," he said.
Dunn said he has never personally met DeChristopher, but was so moved by DeChristopher's actions he had to come out Monday.
"He's certainly inspired people from all over," Dunn said. "That's his power. You don't know him, but he's got us to all get together and support him."
DeChristopher said the support means a lot to him.
"I appreciate their support, I really do," he said as he walked out of court. "It's been really important to see that."
DeChristopher case attracts environmentalists from all walks of life
The rally around the recent University of Utah graduate got started late Sunday night. Peter Yarrow of Peter, Paul and Mary fame helped to lift spirits at a sing-in and candlelight vigil at the First Unitarian Church, and on Monday morning, actress Daryl Hannah joined supporters at Exchange Place.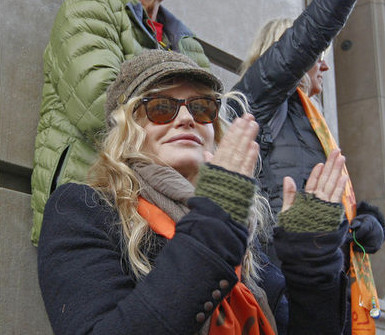 "There are people rising up all over the place, and Tim DeChristopher is one of the best examples of that, and leading it in a beautiful, joyful way," Hannah said. "It's really crucial that we come out and support him."
She has said she plans to attend DeChristopher's trial, which has been set for four days before Judge Dee Benson.
It was Benson who tossed out a defense DeChristopher's attorneys hoped to raise during his prosecution — that of "necessity" in which he claims he had to choose the lesser of two evils to right a wrong. That argument would have opened the door to introduce global warming and detrimental environmental impacts as motivators that drove DeChristopher to violate the law.
But Benson rejected that notion, saying the activist's case failed to meet the legal test to introduce a "necessity defense" because other, lawful options were available to DeChristopher.
"They're not going to let him defend himself," said Judy Bell, 70, who along with her husband, David Bell, turned out Monday to show their support.
"They already said they were going to make an example of him," she said, predicting the trial would not play out fairly in the coming days.
---
You should be able to call something that is wrong, wrong, and not go to jail.
–Judy Bell, protester
---
Not far away, two men stood holding a huge banner that read, "A bold, courageous act for the people and the planet is NOT a crime."
Bundled up in a heavy jacket and gloves, Judy Bell added she believes in what DeChristopher did, and that the federal government is being hypocritical.
"You should be able to call something that is wrong, wrong, and not go to jail," she said. "It's so incredibly brave what he did."
She added that for the U.S. government to frown on other countries for how protesters are treated is disingenuous because "we treat them just as badly, except we do it through the legal system."
Protesters plan to gather across the street from the courthouse in some fashion during each day of trial, Anderson said, noting that other events Monday include fashioning a human sculpture, presentations by slam poets and sing-a-longs.
"We will be here in some way as long as we have to," Bell said.
-----
Story written by Amy Joi O'Donoghue, with contributions from Jennifer Stagg and Shara Park.
×
Photos
Related Links
Related Stories