Estimated read time: 2-3 minutes
This archived news story is available only for your personal, non-commercial use. Information in the story may be outdated or superseded by additional information. Reading or replaying the story in its archived form does not constitute a republication of the story.
Dick Nourse ReportingA couple of Englishmen may have come up with the antidote to video games.
They worried their boys were spending too much time looking at video screens, instead of outdoors exploring the world. Their book, The Dangerous Book for Boys, has been on America's best-seller lists for weeks.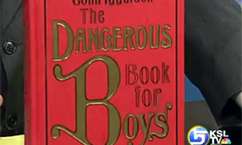 Dick Nourse found out why, in this report from The Nourse Files.
This summer, Dick and his son Dayne have been making their own fun, with things like tying knots.
"You never know when you might need to know how to tie a good knot. A lot of people are just happy with tying the old figure eight, or their tie, or a granny knot, which is not good for anything," Dick advises.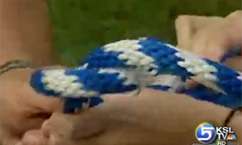 "Back in, down, and through the hole. OK, right through there. Put this in through the hole. OK, then reach in there and grab with your hand. Now pull. There you go. That's a good old sailor knot," Dick says.
And, there are coin tricks.
"You get your hand in there, and you place it in. But then you turn it over and drop the coin in this hand, and then move this hand down," Dick says.
Then you reach over behind the ear and say, "There's the coin!" That's pretty cool, and that's an easy one to learn, Dayne agrees.
What else to do? How about dinosaurs?
"What if you all of a sudden came in front of a brachiosaurus? What would you do? Would you be scared?" Dick asks.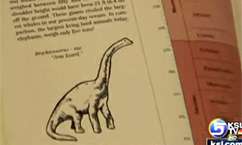 "Yeah, I really would be scared," Dayne admits.
Besides stuff about dinosaurs and pirates and flags, there is practical advice in the book -- like how to play poker and chess. And how to talk to girls.
"You know, my biggest problem talking to girls was -- it's important to listen," Dick says. "I remembered that, but then if they didn't say anything, I always felt like I had to say something. I was kind of shy. I was kind of afraid of girls at one time."
Dayne says, "Mostly how I get girls is, mostly it depends on if they like me or not."
How does he know if they like him?
"Well, just because I'm cute, I think," Dayne laughs.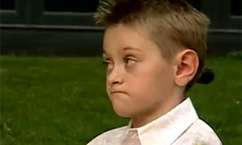 "OK, you are," Dick says. "You get that from your mom, I guess."
"Now think about this, really. This is important stuff. If you had a chance right now to sit and play transformers or something on video games, or learn how to tie knots with your dad, what would you rather do?" Dick asked.
"Learn how to tie knots with my dad," is the answer.
From the star maps: Can you see the Big Dipper and the Little Dipper? Which one do you like best?
Dayne says the Little Dipper, because "it's sort of short and tiny, and I like it."
And what should we do tomorrow? Dayne wants to build a tree house!
×
Most recent Utah stories