Estimated read time: 4-5 minutes
This archived news story is available only for your personal, non-commercial use. Information in the story may be outdated or superseded by additional information. Reading or replaying the story in its archived form does not constitute a republication of the story.
If you have photos of this wildfire you wish to submit, please send them to photos@ksl.com.
Fire Information: (866) 447-1283
**Road Information: Dial 511**Sam Penrod, Alex Cabrero and The Associated Press Reporting
A massive wildfire that swept across two central Utah counties grew to 283,000 acres Sunday -- a size fire officials say make it the largest in the state's recorded history.
Sunday evening, portions of Interstate 15 and Interstate 70 that had been closed due to the fire reopened.
"We're fast approaching 300,000 acres, if we're not already there," said Mike Melton, fire management officer for Utah's Division of Forestry, Fire and State Lands. "I was on the initial attack of this fire in the air, and this fire just ran away from us. We couldn't put a dent in it."
"This is a monstrous fire," said state fire information officer Jim Springer. And it shows no signs of slowing down.
From the ground it looks like any other grass fire. But from the air you can see this fire is just plain massive.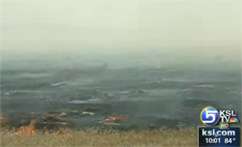 BLM firefighter Randy Turrill and his team have been trying to fight this fire using airplanes and helicopters, and when necessary, calling for bulldozer crews to cut a wide line, in hopes the fire won't be able to jump it.
"You get a line around it and it's not going anywhere," firefighters said.
As fast as this fire moved on Saturday, crews just couldn't get in front of it. "I've just never seen anything like it," they say.
No matter what they do to fight this fire, it is still moving quickly. Not as quickly as it did Saturday, but with the wind blowing it still is giving firefighters a bad time. Ranchers in the Kanosh area were still moving livestock, just in case. One rancher said after what he saw yesterday, it's hard to believe the cattle survived.
The fire burned along the edge and in the median of Interstate 15 Sunday, forcing a 60-mile closure of the highway between Interstate 70 near Cove Fort and Beaver for nearly five hours, Utah Highway Patrol Lt. Steve Winward said. I-15 reopened Sunday evening but could be closed again if the wind shifts, he said.
About 300 structures remained threatened.
The fire started late Friday afternoon. Firefighters are still trying to get any containment on it.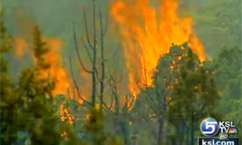 The interstates closed around 3 p.m. Sunday. The detour backed up traffic for miles, with motorists trying to get around the fire.
Saturday afternoon, the fire jumped the freeway near the Chevron gas station just north of Cove Fort. A couple of garage-type buildings were destroyed near the gas station, along with a pickup truck that was left in a park-and-ride lot.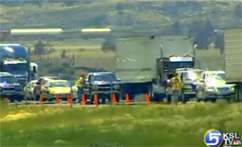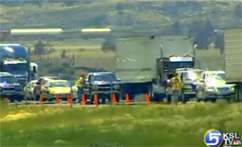 The fire got close to the Cove Fort Historic Site on the west side, but nothing was damaged. An RV park where LDS missionaries live was surrounded by fire Saturday, but was not damaged, either.
A helicopter worked the fire all afternoon, making water drops on the flare-ups. Only 109 local firefighters, many of them volunteers, have been working the fire since it began Friday.
A Type I fire crew -- the elite units in wildland firefighting -- arrived Sunday with about 500 firefighters and equipment and was assessing the fire, fire information officer LaCee Bartholomew said. That team will take over management of the fire at 6 a.m. Monday.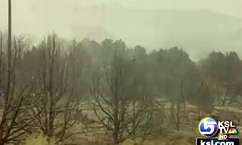 "The wind and the fuels dictated our tactics to us," firefighters say. "We've been on the defensive the whole time."
The whole thing started with a lightning strike on Friday afternoon and has raced through about 442 square miles of extremely dry sagebrush, cheat grass and pinion juniper. It's being stoked by high winds, tripled-digit temperatures and low humidity, Melton said. Grass and other vegetation in the area is extremely dry, he said.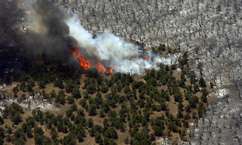 No containment date is being predicted.
Evacuation orders issued Saturday for Cove Fort and a power plant in Sulpherdale were also lifted Sunday.
Utah has been awarded a federal Fire Management Assistance Grant from the Federal Emergency Management Agency to help cover firefighting costs.
The highway patrol is also blaming the fire for several car accidents Saturday, including a hit-and-run fatal collision that killed a Rowland Heights, Calif., couple traveling on a motorcycle. Several injuries are also related to the fire.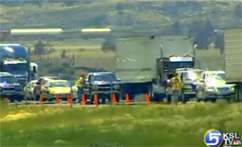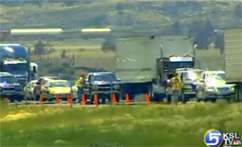 Roy Rex Redmon, 68, and his wife Mary Ann Redmon, 65, of Rowland Heights, Calif., were struck from behind and knocked over by a station wagon, which had also been struck from behind by another car, UHP Lt. Steve Winward said.
The wagon then ran over the Redmons and kept driving, Winward said. The Redmons were dead at the scene and police are still trying to locate the driver of the wagon, he said.
Public safety officials also blamed the fire for a handful of other traffic accidents Saturday, including a five-car pile up. Additionally, the fire forced about 10 long-haul truck drivers to unhitch their trailers and abandon their cargo.
The fire forced the evacuation of Cove Fort Saturday. At least one vacation home and two unoccupied buildings burned near there. -->
(The Associated Press contributed to this report)
×
Photos
Related links
Most recent Utah stories