Estimated read time: 3-4 minutes
This archived news story is available only for your personal, non-commercial use. Information in the story may be outdated or superseded by additional information. Reading or replaying the story in its archived form does not constitute a republication of the story.
FARMINGTON -- When you buy a new home, you expect the best in energy efficiency. But many Utah homeowners are wasting energy and losing comfort due to outdated energy codes.
Shelly Bouvang's beautiful 3-year-old home in Farmington hides a costly secret within its walls.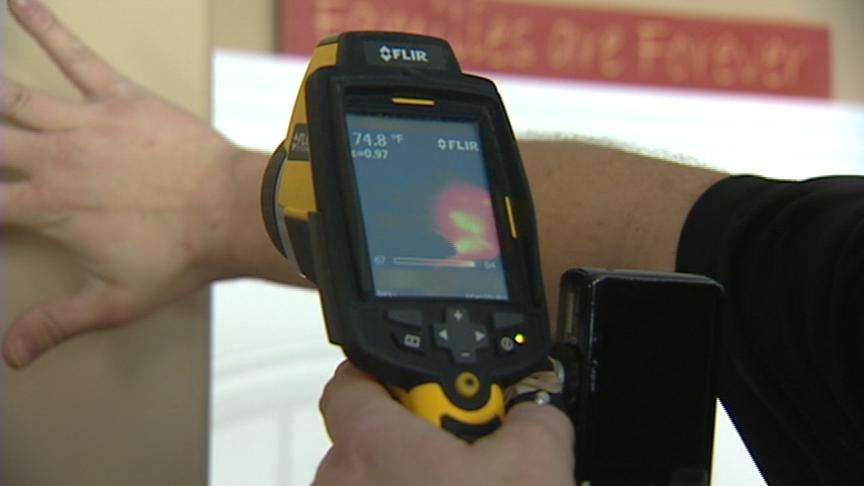 "If they would have fixed it in the first place, or done it right in the first place, I wouldn't be dealing with this right now," she said.
The home's ducts leak, so hot air does not efficiently flow through the house in the winter and cool air doesn't get the job done in the summer.
Mitch Richardson is a home energy inspector who showed KSL News the inefficiencies throughout the home. He pinpointed the problems with a thermal camera, citing leaky ducts and inadequate insulation.
In the family room, Richardson demonstrated how hot air became trapped in the walls. "So instead of all that warm air getting to where you want it to go, it's too busy heating up this whole cavity," he said, pointing to the air duct that runs the length of the family room.
In Bouvang's playroom over the garage it's too cold in the winter and too hot in the summer, so the family rarely spends time there. Richardson traces it back to the leaky air ducts.
"Any one particular crack or seam in a duct isn't a big deal," he said. "But once you add up all of those tiny cracks and seams, it turns into a pretty big hole."
Clean Energy Utah says 38 percent of Utah homebuilders exceed current energy codes. Instead, most build to the 2006 code, which the Legislature has not updated.
---
Homes that are built to this updated energy conservation code actually would save about $175 every year.
–Kevin Emerson, Utah Clean Energy
---
#emerson_quote
"The codes are really, really loose," Richardson said. "They can get away with a lot of inefficient practices."
Kevin Emerson with Utah Clean Energy says updated energy codes would lead to great savings for homeowners.
"Homes that are built to this updated energy conservation code actually would save about $175 every year," he said. "Building homes right in the beginning helps avoid the need for building new power plants, and helps put downward pressure on utility rates."
But families like the Bouvangs waste money on unnecessarily higher energy bills and compromise on comfort.
"If we were to bring that code up to the 2009 code, or the 2012 code, and we were to enforce those things, then Shelly's issues would be solved," Richardson said.
Utah Clean Energy research shows the tighter code would cost builders $980 more up front on the average Utah home. Bouvang's best fix, which includes punching holes in walls and tearing out drywall, will cost up to $5,000.
"I think, [other homeowners] think they're going to get a perfectly normal operating system, and then they get in there and live in there and find out it's not what they thought they were buying," Bouvang said.
But she now understands her problem inside the walls, and out.
"I've got a case," she said. "I think my builder is the kind of guy who will do the right thing. I think he'll fix it."
Utah Clean Energy also points out that energy-efficient homes help avoid the demand for more power plants and help keep utility rates lower.
E-mail: jboal@ksl.com
×
Related links
Most recent Utah stories