Estimated read time: 4-5 minutes
This archived news story is available only for your personal, non-commercial use. Information in the story may be outdated or superseded by additional information. Reading or replaying the story in its archived form does not constitute a republication of the story.
**If you have photos of this wildfire you wish to submit, please send them to photos@ksl.com.**KSL Team Coverage
A raging wildfire in Millard County has shut down a large portion of I-15. In just hours, the fire jumped tens of thousands of acres. It could go down as one of the biggest fires in Utah history.
This fire has already caused the deaths of two people, forced evacuations, and snarled southbound traffic.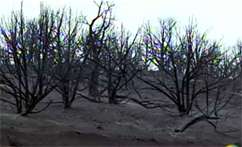 Saturday night authorities said, "Right now we've got a fairly large portion of I-15 which is closed. I've never seen a closure this big. It's some 92 miles long."
The interstate was expected to remain closed from Scipio to I-70 at least until Sunday morning. I-70 also was closed from the I-15 junction to milepost 28.
Fire crews say in 24 hours this fire spread 40 miles. Some veteran firefighters say this is the fastest moving fire they've seen.
Two people were killed in a traffic wreck related to the fire. They have been identified as Roy Rex Redmon, 68, and his wife, Mary Ann Redmon, 65, both of Rowland Heights, Calif. They were on a motorcycle southbound on I-15 near Kanosh Saturday afternoon, and got caught up in the thick black smoke. They were either slowing down or stopping because they couldn't see, when a vehicle hit them from behind, then ran over them. The driver who hit them left the scene.
Public safety officials also blamed the fire for a handful of other traffic accidents Saturday, including a five-car pile up.
Investigators think this fire started because of a lightning strike near Beaver Friday. So far it's burned about 160,000 acres.
"We just don't know which way the fire is going to go," firefighters said.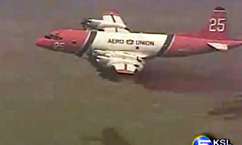 The fire forced the evacuation of Cove Fort. At least one vacation home and six other unoccupied out-buildings had been lost in Cove Fort, Millard County Sheriff Robert Dekker said.
Also in Cove Fort, problems were reported near the Chevron gas station east of the freeway. A lot of LDS missionaries who serve at the Cove Fort visitors center actually live in an R.V. park near there. KSL's Sam Penrod spoke with a missionary who was the last one out as that area was evacuated. He says it was very intense, with heavy smoke.
The actual visitor's center in Cove Fort was not damaged.
At one point Saturday the fire jumped over the interstate and was heading for Kanosh. But we're told that firefighters were able to knock down the flames east of the interstate, and the fire started burning toward the west. So Kanosh, Meadow and those areas appear to be safe for now.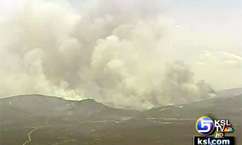 No matter what firefighters do to fight this fire, nothing seems to be working.
Howard Allred of State Forestry said, "It's pretty well doing what it wants to do."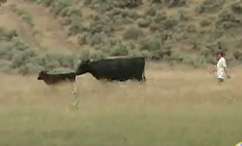 All day long Saturday this fire kept growing, the wind pushing it faster than crews could handle.
"We just backed up and kept our firefighters safe and hope for the best," Allred said.
Ranchers hope for the best, too. They were trying to herd their cattle out of the Kanosh area by foot and by truck.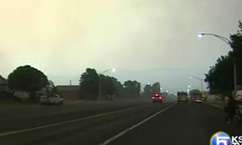 In Kanosh, Glenna Davis and her family decided it was time to go, as the fire headed toward town, making the sky dark and the wind hot.
"We have seen fires, but it has not gotten this close to home," she said. An evacuation order was not put into place here, but firefighters told residents to get ready just in case.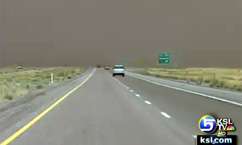 And then there is I-15, with thick, dark smoke causing problems everywhere. That caused the closure of the interstate between Scipio and I-70.
"We just can't stop the fire. We've put fire lines in. Two heads will pinch together and blow over our fire lines, and we're off running," officials said.
The fire also forced about 10 long-haul truck drivers to unhitch their trailers and abandoned their cargo, the UHP said.
The fire started in an open grassy area and moved quickly into rocky, hilly terrain and is threatening critical mule deer and sagebrush habitats, Bartholomew said. Crews fighting the blaze on the ground had some help from air tankers, but the very heavy smoke was increasing the risk to firefighters.
"It's really smoky, and with fire that size you do have problems putting resources on the ground," Bartholomew said. "We need to be sure where everybody is."
Their efforts have also been hampered by an abundance of dry, fine grasses, high temperatures, low humidity and strong shifting winds. Type one fire management crews are expected to arrive Sunday. They have expertise and equipment in dealing with fires like this. About 500 firefighters will attack the flames Sunday.
No containment figures were being estimated.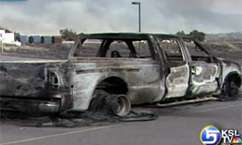 Visibility was reportedly bad Saturday afternoon and evening in Sevier and Sanpete counties, as well.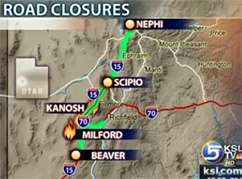 Again, a very large section of Interstate 15 is shut down, about 93 miles.
This map gives you an idea of where officials say low visibility is making driving too dangerous.
I-15 southbound is closed from Scipio to Interstate 70. And, we've learned I-70 is closed from the I-15 junction to milepost 28.
Utah Highway Patrol says if you're heading south, your best bet to to get off at the Richfield or Nephi exits. Also, you can use S.R. 130 to Cedar City.
(The Associated Press contributed to this report)
×
Photos
Related links
Most recent Utah stories