This archived news story is available only for your personal, non-commercial use. Information in the story may be outdated or superseded by additional information. Reading or replaying the story in its archived form does not constitute a republication of the story.
SALT LAKE CITY -- There's an unexpected Utah connection in the online battle for the website Pac12.com.
The domain is owned by a Salt Lake County businessman, who bought it more than six years ago. He was surprised to get a cease and desist letter from the Pac-10 Conference.
---
Certainly, I can't infringe on something that didn't exist until five years after I created it.
–Austin Linford, Utah businessman
---
#linford_quote
Pac12.com is a site the Pac-10 Conference would like to get its hands on. In fact, the organization's cease and desist letter says Austin Linford's ownership of the domain "is likely to lead to confusion, mistake or deception on the part of the consuming public as to the affiliation, connection, or association of your business and the Pac-10." It also says the Pac-10 would undoubtedly prevail in a domain name arbitration, but the conference "would prefer to resolve this dispute amicably and without the need of litigation."
"This is David versus Goliath, and they're the bully," Linford said.
He bought the domain in 2005 as part of a project he's working on called the "Pacific 12." That project is currently delayed by the economy, so for now, Linford's got a "parking page" in its place: the 2PAC.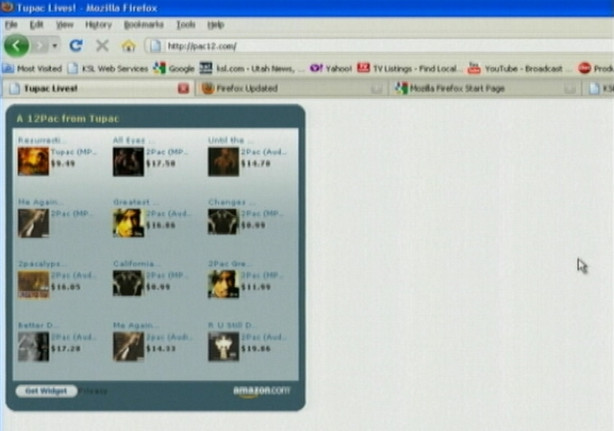 Linford refutes allegations he's cybersquatting, pointing out he only bought Pac12.com -- not other numbers as a cybersquatter would.
"I had no idea they were going to create a Pac-16, a Pac-11 and then turn it into a Pac-12," he said.
Linford's attorney has filed a civil suit against the Pac-10 asking for the judge to rule he's not infringing on any copyright laws. He says he's prepared to go to court.
"If they had not trademarked Pac-12, there would be no infringement," Linford said. "Certainly, I can't infringe on something that didn't exist until five years after I created it."
KSL News e-mailed a representative with the Pac-10 Conference Tuesday night and received the following statement:
"The process of identifying useful domain names directly related to the new Pac-12 is routine. As part of this process we have obtained, and will continue to obtain, great domain name options. And at some point in the near future we will select one of them before we launch the Pac-12 website this summer."
E-mail: sdallof@ksl.com
×
Related Links