This archived news story is available only for your personal, non-commercial use. Information in the story may be outdated or superseded by additional information. Reading or replaying the story in its archived form does not constitute a republication of the story.
LOS ANGELES -- Utah Jazz point guard Deron Williams cited the age gap between himself and former Utah Jazz head coach Jerry Sloan to describe the disconnect he felt with the coaching staff.
Williams, the Jazz lone representative at the NBA's All-Star festivities in Los Angeles this weekend, spoke openly about his relationship with Sloan and new Jazz head coach Tyrone Corbin.
---
I can't just go and have the same conversation with my grandma that I would have with my friend.
–Deron Williams
---
Interestingly, Williams describes Corbin as being cut from the same cloth as Sloan, but with one significant difference.
"I've been around Coach Corbin for six years," said Williams. "He's been an assistant here under Jerry and he's got a lot of the same characteristics that coach (Sloan) did because he's been here and under (Sloan), you know- the same system. (He is) a little younger and can related a little better to us as players."
When asked to expound on what he meant about relating to the players better, Williams paused before pointing out the obvious age difference between him and Sloan.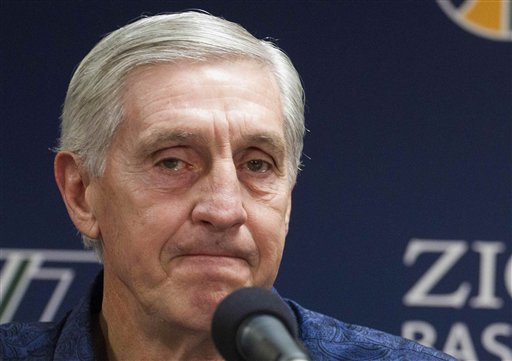 "I'm 26, Coach (Sloan) is 69. That's a big difference; different eras, different generations. There's bound to be something. I can't just go and have the same conversation with my grandma that I would have with my friend," Williams said with a smirk on his face. "It's nothing bad its just how it is and I think Coach Corbin is younger and has kids our age, so I think that helps a little bit."
Sloan resigned as the Jazz head coach on February 10 after a difficult loss to the Chicago Bulls at home which included a heated exchange with Williams at halftime.
Sloan spent 26 years with the Jazz, 23 years as the head man.
The Jazz have lost the first three game of Corbin's tenure, the latest defeat at the hands of the Golden State Warriors at the EnergySolutions Arena. Utah's fifth straight loss at home.
Coming up on Sportsbeat Saturday, Williams talks about his injured wrist and what kind of playing time he expects during Sunday's all-star game.
----
Written by Graydon Johns with contributions from Rod Zundel.
×
Related Links
Related Stories