Estimated read time: 1-2 minutes
This archived news story is available only for your personal, non-commercial use. Information in the story may be outdated or superseded by additional information. Reading or replaying the story in its archived form does not constitute a republication of the story.
Gene Kennedy ReportingSweltering conditions are creating high fire danger across the West. Some states are even opening cooling centers to protect the public.
It was actually nice outside in Salt Lake City this morning, with temperatures in the 70s. But triple-digit temperatures will continue today, with 100 degrees-plus forecast from Idaho to Arizona.
It's 10 to 15 degrees above normal in Utah. In St. George they're pushing 115. In Phoenix, 120! Police there have started carrying ice coolers in their cars to pass out cold water to people in need.
Several cities in the West also will be opening cooling centers today.
A bit of irony: This week the earth and sun are as far apart as they're going to get for the year. But that doesn't determine temperature. The earth's tilt does.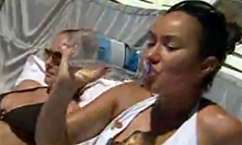 Patrick Wiggins, a NASA Solar System Ambassador, explained, "It just so happens that this time of year, we here in the northern hemisphere, we're tilted toward the sun 23 degrees or so, which puts the sun higher in the sky."
World Record High Temperatures
1. El Azizia, Libya 136 degrees (1922)
2. Death Valley, Ca. 134 (1913)
3. Tirat Tsvi, Israel 129 (1942)
It's hard to imagine it can get worse but these numbers prove it. Libya holds the record at 136 degrees! Death Valley, California has the second-highest reading of 134. A city in Israel checked in at 129.
So factor that in, and we've got it pretty good. Still, this is not a comfortable time, and fire danger is very high.
×
Related links
Most recent Utah stories