Estimated read time: 3-4 minutes
This archived news story is available only for your personal, non-commercial use. Information in the story may be outdated or superseded by additional information. Reading or replaying the story in its archived form does not constitute a republication of the story.
MURRAY -- As the song goes in the musical "Oliver," food is glorious -- except when your blood sugar drops too low or spikes too high.
For those with diabetes, food is glorious only when consumed in the right amounts. Now, imagine a food tray that knows exactly what you're eating and how many calories, carbohydrates, fat and protein you're consuming -- in real time.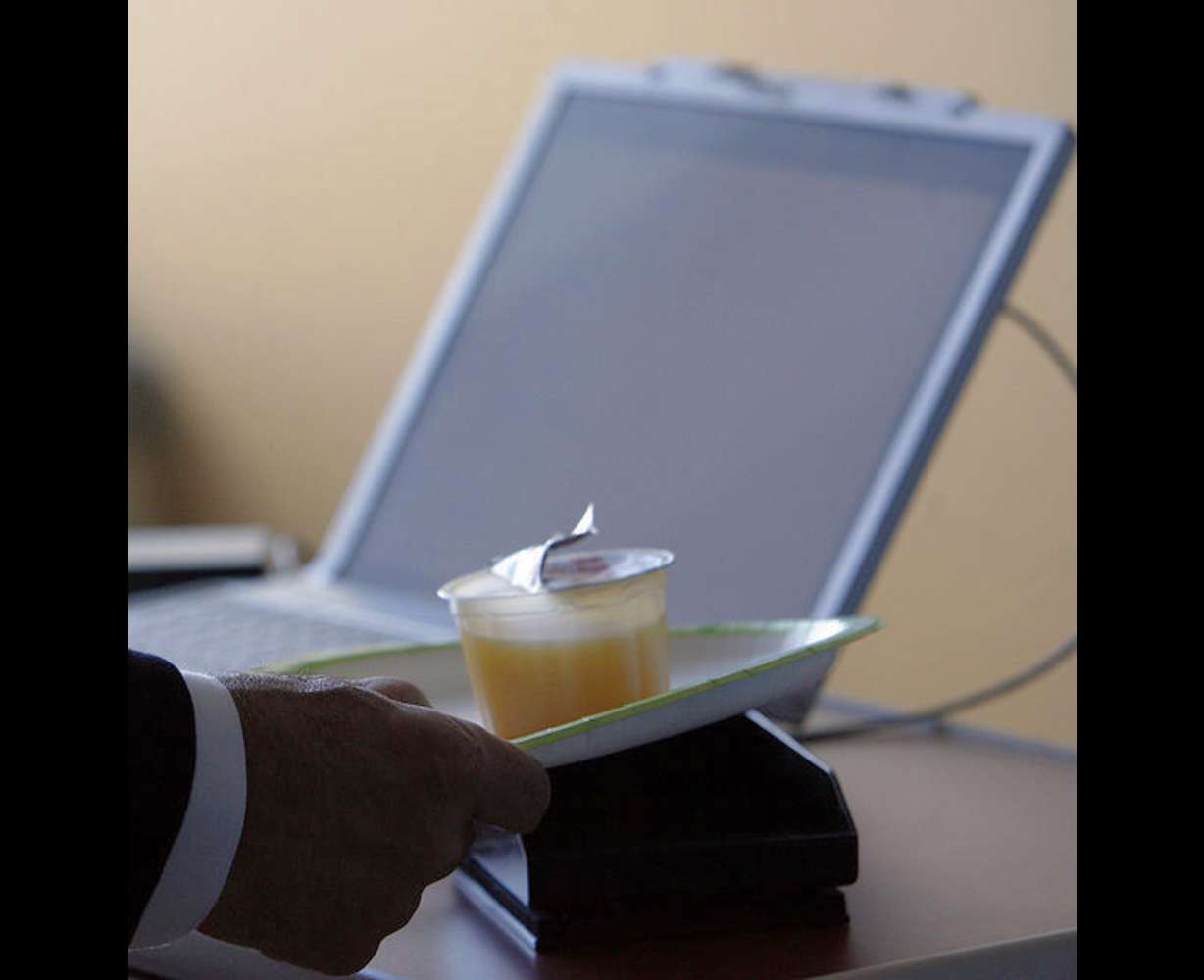 The ingenious invention, called the "Smart Tray," is offering a new age way for diabetics and others to monitor their diets.
While still experimental, Intermountain Medical Center researcher and inventor Dr. Joel Ehrenkranz said the device works with remarkable accuracy. "This takes what basically is an obsolete process," he said, "and turns it into a digital process."
In a hospital setting it tells the patient, as well as the nursing staff, how many carbs they are accumulating while they're eating. Registered nurse Julie Williams, who has diabetes herself, believes the tray could become an invaluable tool for those on insulin.
"I take one unit for every 15 grams of carbs I eat, so if I eat 45 grams then I have to take three units. The device gives me a more precise measurement," she said.
Ehrenkranz demonstrated by eating a banana. With each bite, the tray measured calories and cumulative grams of carbohydrates, protein and fats -- all as he was eating. The tray recognizes variable servings or scoops of 7,000 foods and drinks. It eliminates guesswork where nurses have to set an insulin dose based on the accuracy of an individualized menu and an estimate of what a diabetic patient has consumed.
---
For anyone who is on a diet, who really wants to know how much they're eating, this is going to be the state-of-the-art device.
–Dr. Joel Ehrenkranz
---
"When we look at the conventional tray, we're looking at each individual nurse's interpretation of that and probably if you have five nurses coming into the patient's room you're going to get five different answers," said registered nurse Marque Ball.
Ehrenkranz cited an example. The Smart Tray essentially says, "Oh, look," there's 100 grams of mashed potatoes on this plate. Based on the database in the system, it knows how many calories, carbs, fat and protein is in 100 grams of mashed potatoes. The tray also tracks potassium, sodium and cholesterol. Everything registers in real time while the user is eating.
The invention so far is a rough prototype, but in its final form the product would be a full-size hospital tray with seven scales that would measure each food as it's consumed.
Ehrenkranz says applications down the road are almost limitless. The tray could be used for any patient who needs to have his or her diet monitored, like those in renal failure or with heart disease.
"For anyone who is on a diet, who really wants to know how much they're eating, this is going to be the state-of-the-art device," he said.
"There are people with brain injuries who forget that they are eating and this will actually remind them to continue to eat by monitoring the time in between bites," Ehrenkranz said.
In fact, the device could be used in expanded research to tell how much time you actually take to eat a meal. Future devices connected with an insulin pump might dose insulin more naturally and automatically -- the way your body does as needed over time.
Ehrenkranz predicts Smart Trays might eventually be available to consumers for use in the home with a price tag under $100.
E-mail: eyeates@ksl.com
Photo: Laura Seitz, Deseret News
×