Estimated read time: 3-4 minutes
This archived news story is available only for your personal, non-commercial use. Information in the story may be outdated or superseded by additional information. Reading or replaying the story in its archived form does not constitute a republication of the story.
John Daley Reporting This Fourth of July fire crews are trying to gain control over several blazes. One smoky fire is in an area not far from many homes in Sandy. Investigators are trying to figure out if, despite repeated, urgent warnings, a group of young people triggered it with fireworks.
Everyone from the governor on down has been pleading with Utahns to avoid fireworks this summer, especially near areas like this prone to burn. But apparently the message didn't get through to some.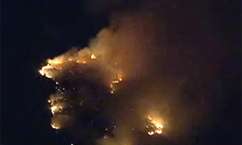 Dozens of firefighters are toiling away in the hot sun on a bone-dry 4th of July while investigators try to determine if the blaze had been accidentally set by an early holiday celebration.
Witnesses told Eyewitness News they saw five men in their late teens or early 20s setting off what looked like bottle rockets and possibly a flare last night.
Sandy resident Kyle Robbins says, "I could see it from there, and then it was burning the entire side of the mountain here and all the way up the mountain. Scary, it was huge, looking at it the whole way."
The fire is burning in patches on a mountainside in Sandy near Little Willow and Rocky Mouth Canyons, generating gray clouds of smoke visible around the Salt Lake Valley. The fire started at about 11:00 last night and has burned about 60 acres.
The terrain is daunting, very steep, very dry and getting baked by intense sun and hot temperatures all day.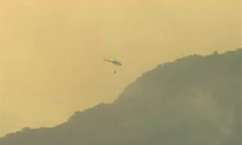 The main objective is to prevent the fire from burning down the mountain toward any homes, and also to keep it from getting into the watershed to the north. All day, aircraft dumped fire retardant and water using Bells Canyon Reservoir to load up. Sandy City has closed the trail leading up to it.
Deputy Forest Supervisor Dave Myers says, "We've had three crews on the fire today, and that's following three crews that were right on the fire last night; we had night crews out, and that's somewhat unique. And between those two things and we haven't had wind and that's been real important, and that's why we're getting around this fire today."
Myers also says, "Definitely human caused. Not necessarily fireworks, but something, something happened last night. This is right next to a neighborhood so there are witnesses. At least they saw the fire start up on the mountain side. So the results of that aren't in yet."
Fire investigators are trying to zero in on how the fire got started, saying whoever may have sparked it could be in serious trouble.
Asst. Chief Don Rosenkrantz of the Sandy City Fire Dept. says, "It will be an extraordinary amount of money for a fire of this magnitude." When asked if the perpetrator could face jail time, he replied, "Absolutely. If there was any malicious intent, absolutely."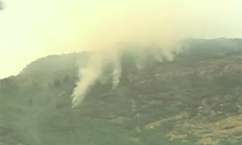 So far this fire is about 75 percent contained.
Obviously this fire is a stark reminder of just how dry the conditions are. There are 60 or 70 firefighters fighting the blaze today.
Crews with the Unified Fire Authority gave a demonstration the other day (see related link) of what dropping a firework in a field of grass would do; within seconds that field became a roaring fire. Those dry conditions continue to persist around the state.
×
Most recent Utah stories