Estimated read time: 2-3 minutes
This archived news story is available only for your personal, non-commercial use. Information in the story may be outdated or superseded by additional information. Reading or replaying the story in its archived form does not constitute a republication of the story.
WEST VALLEY CITY -- In less than a second, the life of an 18-year-old West Valley girl changed forever. Granger High School senior Kellie Day lost several fingers in a tragic accident at her school.
She was in a shop class when a project cost her four fingers on her right hand.
"I had my hand holding it to do a vertical cut," she said, "and it grabbed the metal and pulled my hand under the blade."
Doctors saved and re-attached her index finger. "I've been trying to adjust to my left hand because I was really dominant with my right hand," Day said.
But X-rays are a reminder of what happened. Kellie's father, Glenn Day, is worried because his daughter was looking forward to a career in designing and engineering.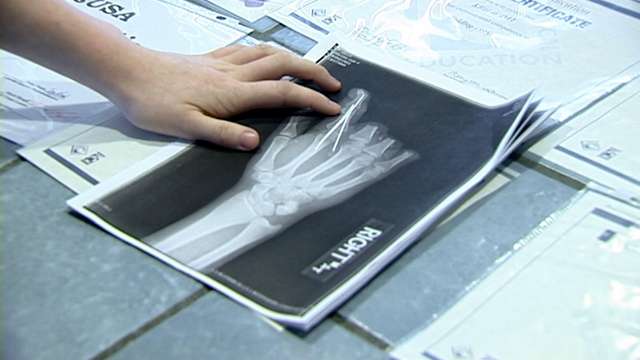 He's also worried about the medical bills, saying, so far, he hasn't heard much from Granite School District. "I feel like they're not acting as quickly as they should," he said.
Ben Horsley, the spokesman for Granite School District, says it's really out of the districts hands. The case has been turned over to the district's insurance company.
He says every student gets trained on the equipment and parents sign a waiver for them to be in the class.
"She's an excellent student and it's an advanced wood-working class," he said. She obviously knew how to work the equipment after being in the class several years."
Now, Kellie is focusing on her school work. She says she won't let this accident take away anything else important to her.
"I'm getting my grades done, and I just want to graduate and be able to walk with my class," she said.
Donations can be made to the Kellie Day Account at any Zions bank branch.
E-mail: acabrero@ksl.com
×
Photos
Related stories
Most recent Utah stories