This archived news story is available only for your personal, non-commercial use. Information in the story may be outdated or superseded by additional information. Reading or replaying the story in its archived form does not constitute a republication of the story.
WENDOVER -- The body of a woman that was found badly decomposed in Utah's west desert last summer has been identified as that of Mireslaba Vasquez Ramirez, who has been missing since 1998.
Tooele County sheriff's detectives compared DNA from the woman's bones to DNA from her family members to confirm Ramirez's identity.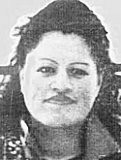 "It's good to identify this woman," Tooele County Sheriff Frank Park said. "This progress in the investigation by my detectives has helped bring some closure to the family and will hopefully help bring this case to a close."
Ramirez, who was 29 years old and worked as a blackjack dealer in Wendover at the time of her disappearance, was last seen alive on Oct. 21, 1998, and was with her husband, Jose Ramirez Rodriguez. She was reported missing six days later.
The skeletal remains were discovered in a salty area near a canal in the desert on June 15, 2010, by an Intrepid Pot Ash employee, who was working on long-vacant property east of Wendover. The salt is believed to have contributed to the quick deterioration of the body, which was unidentifiable when it was found.
Police believe the couple was headed to Elko, Nev., to talk to an attorney. Rodriguez, who was 36 in 1998, had been charged with aggravated assault after allegedly pistol-whipping a man during a fight at the casino where Ramirez worked. She was the primary breadwinner for the family, which included three small children.
Rodriguez sometimes worked at the potash plant, but in the late 90s, the plant downsized, leaving many of the adjacent canals abandoned.
Wendover media outlets reported that Wendover's tight-knit Mexican immigrant community might have been protecting Rodriguez at the time of the incident, and not cooperating with police, because of deep-rooted tradition and belief that he was defending his family's honor. Many believed that Ramirez was possibly murdered because her husband thought she had been unfaithful.
Family members told the Deseret News that Ramirez and Rodriguez's marriage of 10 years "went bad" over time.
Rodriguez allegedly returned to the couple's Tooele home the night his wife went missing and according to the Missing Person's Cold Case Network's website, he told family members that Ramirez had jumped from their vehicle somewhere near the Ibapah Indian Reservation, about 50 miles south of Wendover, and that he couldn't stop her from running away.
Police later found a pair of gold, hoop earrings in that area that were believed to belong to Ramirez.
Rodriguez reportedly left Utah and went to Mexico the next day and hasn't been seen since.
Officials considered him the only person of interest in Ramirez's disappearance and in 1998, charged him with kidnapping, a second-degree felony. A warrant remains outstanding for his arrest.
E-mail: wleonard@desnews.com
×
Related Stories