Estimated read time: 5-6 minutes
This archived news story is available only for your personal, non-commercial use. Information in the story may be outdated or superseded by additional information. Reading or replaying the story in its archived form does not constitute a republication of the story.
KANAB -- For more than a year, dozens of human remains have been unearthed and stored in a big metal box near Kanab.
Last spring, the total reached 54.
It's a dramatic collision of the past with the present. People who lived 1,000 years ago have been forced from their final resting place by a modern day construction project.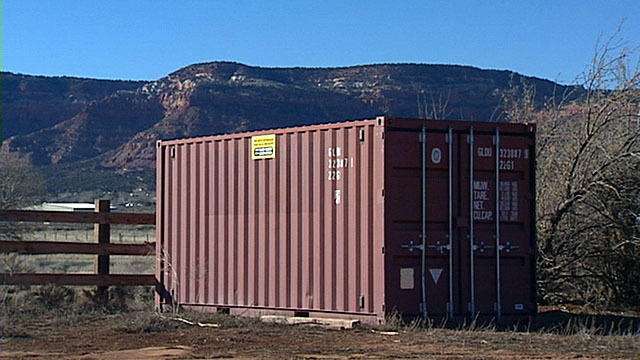 The situation has gone largely unpublicized as Native Americans, archaeologists and a controversial Utah lawmaker have struggled over what to do. It's still not fully decided who has a right to speak for the ancient ones.
Over the past couple of years, archaeologist Kenny Wintch learned to appreciate how much the ground just outside of Kanab means to Native Americans. "It has caused them pain," Wintch said. "It has caused them grief."
Wintch is leading an effort by archaeologists to excavate an area scheduled to be bulldozed to make way for a new dam and reservoir. The Jackson Flat Water Supply Storage Facility is being built by the Kane County Water Conservancy District.
Wintch is chief archaeologist for the Utah School & Institutional Trust Lands Administration, which owns a small portion of the land involved. His teams of archaeologists found evidence of a culture that apparently thrived for 800 years and vanished about 1000 A.D.
After the first body was unearthed, Wintch says a Native American warned that many more would be found. Later, Wintch began to wonder if there was a tribal memory stretching back a thousand years.
---
We believe that one's last resting place is hallowed ground, a place so sacred and blessed that to disturb this last resting place is morally wrong.
–Kaibab Band of Paiute Indians
---
"I had no idea that we were going to find dozens more individual human remains," Wintch said. "But he said, 'You are!' Obviously, he knew something."
The archaeologists uncovered 30 pit houses, and they believe many more remain hidden beneath the surface of the site. They also found about 100 smaller structures that were evidently used to store food crops such as corn, beans and squash. Families of the ancient Puebloan culture are believed to have lived on the site, more or less continuously, through many generations.
"It's a big deal" for archaeologists, Wintch said. "It's our first really good window into what was happening in the Kanab area, which, at this point, appears to be substantial."
The archaeological excavations were completed months ago but consultants are still working to complete a final report on their findings sometime later this year. Dam construction is under way now, and the ancient village has been largely reburied. A huge trench slices through the site where the human remains were unearthed. The 54 bodies are now stored in a large metal box near the construction site.
The project, closely watched by Indian tribes, is spearheaded by the executive director of the Kane County Water Conservancy District, outspoken conservative lawmaker Rep. Mike Noel.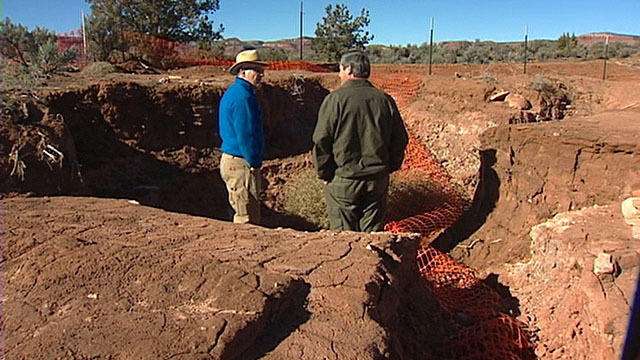 "There's definitely an issue of trust," Noel said. "The Indians historically have not had a lot of trust in white men."
"When it comes to human remains, those are very, very sacred," said Forrest Cuch, the director of Utah's Office of Indian Affairs. He said some Indians believe serious consequences can follow when sacred grounds are disrupted.
"There have been instances in our history," Cuch said, "where exposure to human remains and any kind of disrespect or negative energy associated with them has resulted in unexplained deaths and some disastrous consequences."
But Cuch gives a positive reading to the water district's handling of the situation. "The developer, the land owners and the contractors have been sensitive to the tribes," Cuch said.
A written statement provided by the Kaibab Band of Paiute Indians is generally appreciative of Noel's efforts. But leaders of the Arizona-based tribe said they would have preferred the reservoir project be canceled or moved.
"We believe that one's last resting place is hallowed ground, a place so sacred and blessed that to disturb this last resting place is morally wrong," the statement says. [CLICK HERE to read the entire statement]
What is ... The Native American Graves Protection and Repatriation Act?
The Native American Graves Protection and Repatriation Act (NAGPRA) is a United States federal law passed in November 1990 requiring federal agencies and institutions that receive federal funding to return Native American cultural items and human remains to their respective peoples. -Wikipedia
The Kaibab Band, the Hopi Tribe and the Paiute Indian Tribe of Utah did agree to accept reburial of the remains near the original location on land donated by the water district.
"We'll set that aside," Noel said. "We'll have a conservation easement. It will be protected in perpetuity. So I think we've done what we've been asked to do."
"They're doing their best to comply with the law," Cuch said.
But the process has been slowed by disagreement over the kind of archaeological testing that would be done and because of complications pinning down legal protections for the reburial site. The Kaibab Band's statement hints at behind-the-scenes conflict. "All we want," the statement said, "is for Mike Noel to open his heart, compromise with us and finish the agreement."
Noel says the Indians are rightfully very sensitive. "It's tantamount to going into our graveyard and digging up remains there," Noel said. "So it's been a very, very difficult situation to deal with. But we've been able to have cooperation from the tribe."
Until the final archaeological report is finished a few months from now, it's not clear which tribe has the best claim to being descendants of the people who lived near Kanab a thousand years ago. That final scientific step will decide who has a legal right to speak for the bones of the past.
If a resolution comes soon, it should bring comfort to the tribes, Wintch said. "They want those ancestors returned to Mother Earth."
E-mail: hollenhorst@ksl.com
×
Photos
Related links
Most recent Utah stories