Estimated read time: 1-2 minutes
This archived news story is available only for your personal, non-commercial use. Information in the story may be outdated or superseded by additional information. Reading or replaying the story in its archived form does not constitute a republication of the story.
Deanie Wimmer Reporting A groundswell of advocates hopes we'll just say no to fireworks altogether this summer and attend only professional shows.
A fireworks-free summer may not be out of the question.
Injuries are one thing driving this movement. Here's something interesting: Illegal fireworks cause 1 percent of the injuries. Perfectly legal sparklers and small firecrackers cause 70 percent of the 10,000 injuries. That's one reason a growing list of leaders says NO fireworks is the best way to Stay Safe.
For many Utahns, the Fourth of July isn't complete without a back yard fireworks display. But a growing group of people hope we'll develop a new tradition, leaving fireworks to the professionals.
Dr. Laurent Sigg of Wee Care Pediatrics says, "You know, with the availability of fireworks shows that we have here, especially in the Wasatch Front, you should be able to go someplace and enjoy a good show without having to worry about safety."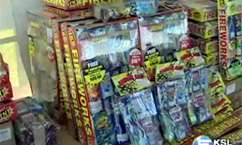 In addition to the American Academy of Pediatrics, the National Fire Prevention Association and National Safety Council have joined the movement against private fireworks.
Governor Huntsman and State Fire Marshall Ron Morris had a conversation on this very topic. For now, they're encouraging heightened caution, but a ban is not out of the question.
Fire danger is the other factor which has led the cities of Riverdale, Park City and Summit County to ban fireworks altogether.
Tricia Hurd of the Park City Fire District says, "It's not worth losing a house over."
Many other cities have restrictions.
Also, at the fireworks stand where we visited, the vendors actively promote safety. They also sell bags of non-flammable options so kids can get the bang without the flame.
×
Related links
Most recent Utah stories