Estimated read time: 1-2 minutes
This archived news story is available only for your personal, non-commercial use. Information in the story may be outdated or superseded by additional information. Reading or replaying the story in its archived form does not constitute a republication of the story.
Jed Boal Reporting Fatal highway crashes in Utah have surged in recent months. This past weekend was a perfect example.
The Highway Patrol says there's no simple explanation.
For five straight years fatal crashes decreased in Utah. Unless there's a dramatic calming trend, that won't happen this year.
"Zero Fatalities." That's the state slogan that urges us all to stay alert, drive safely, and focus on the ultimate goal. But this spring, the number of fatal crashes in Utah surged past the pace of recent years. And it was a deadly weekend.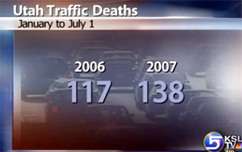 Trooper Preston Rabin says, "We have surpassed last year's statistics at this point. We've had multiple accidents with multiple fatalities."
Ten people died in six crashes Thursday through Sunday.
So far this year, we've had 138 traffic deaths compared to 117 for the same time last year. And August is statistically the deadliest month.
Sunday a woman driving a van to church died when she lost control on I-15. Six children were ejected. One girl is still in serious condition.
Another woman, who was driving drowsy, died on Highway 6 in Spanish Fork Canyon when she slammed in to a semi-trailer.
Since 2000, Utah has seen a 23 percent decrease in fatalities. If the current trend continues, it'll be a 20 percent increase for the year.
"Out of these fatalities we had this weekend," Trooper Rabin says, "only one had their seatbelt on. Statistically, if they'd had their seatbelt on, it would have increased their chances of surviving the crash."
Distracted drivers, drunken drivers, drowsy drivers, and equipment failures all were factors in the weekend fatalities.
- - - - - -
×
Related links
Most recent Utah stories