This archived news story is available only for your personal, non-commercial use. Information in the story may be outdated or superseded by additional information. Reading or replaying the story in its archived form does not constitute a republication of the story.

CAMP WILLIAMS — Months of intense training helps combat troops working convoy security get an aggressive battle-driving mentality.

But effectively getting aggressive driving techniques out of their heads once troops are back home on city streets is a top concern of returning service members and the therapists who work with them.

Convoy security drivers may be expected to drive over anyone or anything in their way, considering the likelihood that a dead goat at the side of the road has a bomb inside it, or that a vehicle crowding the convoy may be part of an ambush.

Among troops who have been deployed in Afghanistan or Iraq, 23 percent of those who returned said they have driven through stop signs, 20 percent were anxious during usual driving, and 50 percent were anxious when other cars approached quickly, according to an Army survey.

The self-assessment survey in a Post-Combat Driving brochure gives a telling list of aggressive driving threats troops can bring home with them: Driving in the middle of the road or straddling lanes, chasing other drivers, driving through stop signs or red lights, being uncomfortable when another car approaches quickly or boxes them in. "Often times the veterans will bring it up that they've gotten tickets, gotten into arguments with the police or had other issues," said Ashley Greenwell, a psychologist at The George E. Wahlen Department of Veterans Affairs Medical Center in Salt Lake City. Others speed, seeking the adrenalin rush they had while driving convoys, she said, adding that therapists routinely ask anyone who comes to see them for the first time whether they have driving problems.

Many returning soldiers adjust quickly, Greenwell said. For those who don't, road rage therapy often takes three to six months with problems lasting much longer if there is no treatment.

The length and intensity of battle training and extreme trauma during deployments that can last for a year are factors that tend to hard-wire aggressive driving tendencies.
---
Often times the veterans will bring it up that they've gotten tickets, gotten into arguments with the police or had other issues.
–Ashley Greenwell
---
Utah Army National Guard Maj. Reece Roberts said he trained in Utah and then full-time for two months in Mississippi before arriving for his first deployment to Iraq with the 116th Convoy Security Company in 2007. The advance party for his group encountered an improvised explosive device (IED) before the entire group was even in country.
The event reinforced the importance of their intense training. "It really drove home the seriousness of what we were going into and the reality of what we were going to be facing." By the time that group came home, there had been several injuries, "several Purple Hearts for soldiers who were sent home with injuries," he said.
Roberts is now the training officer for the Guard's 97th Troop Command. "Each person in a vehicle has a mission and has a responsibility within that vehicle." But back at home, "You gotta back off from those tactics and practices from combat," he said.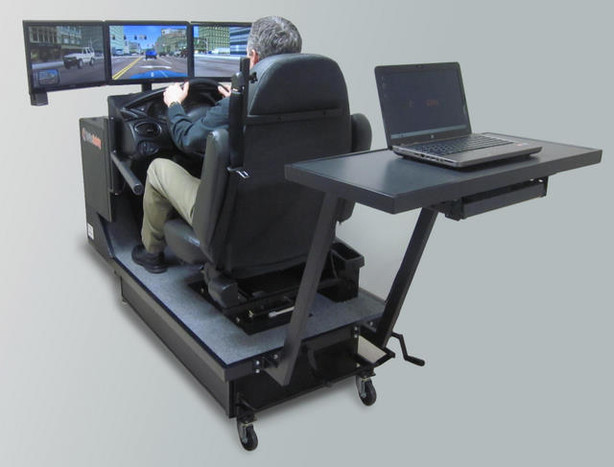 At Camp Williams, trainers use the shell of a HUMVEE that rolls on its side or upside down to train soldiers how to get out of a disabled vehicle. A separate driving simulator lets the drivers, gunners and observers in a four-vehicle convoy escort the chance to practice battle techniques without burning up expensive fuel and ammunition.
Sgt. 1st Class Dallas Wilkerson trains deploying soldiers on both devices. He has also deployed to both Iraq and Afghanistan. "Debris on the side of the road. Debris in the road. Things you don't normally think about" are now a potential threat, possibly concealing a roadside bomb. The frequent use of animal carcases to conceal roadside bombs can make returning troops wary of roadkill like dogs and deer that are common on Utah roadways.
Wilkerson found himself changing lanes when he approached freeway overpasses — something soldiers do to avoid explosives dropped from people standing overhead. "It'll stick in your head. It subsided after a few months and you realize 'nobody's going to attack me here so I guess I'm good. I'll stay in this lane.'"
Military and Veterans Affairs clinicians are finding that if simulators can effectively help train troops into battle mode, then simulators could also be used to train troops out of battle mode, making simulator training one of the newest therapy tools to help returning troops.
The growth market for Salt Lake-based DriveSafety is building driving simulators used in hospital or clinical settings. Treating post combat-driving problems is the biggest area of interest the company has seen with customers who are hospital therapists, and the company now has simulator systems in 11 military and Veterans Affairs clinics. It is scheduled to install three more next week.
"There is some centralized interest, programs at the federal level," DriveSafety CEO Doug Evans said. "So we think that the concept has the attention of the high-ranking decision makers in the Defense Department. But what we're seeing on the ground are clinicians who are treating these soldiers, who need better tools and see a lot of promise in this technology."
Unlike the aggressive battle scenarios in military training simulators, the therapeutic simulators DriveSafety is building allow clinicians to present driving scenarios that start out with no threats present. "Then they'll have a few things that kind of close in on them a little bit" until the scenario represents the all of the obstacles of every-day driving once a patient improves, Evans said.
E-mail: sfidel@desnews.com
×
Photos
Related Links