This archived news story is available only for your personal, non-commercial use. Information in the story may be outdated or superseded by additional information. Reading or replaying the story in its archived form does not constitute a republication of the story.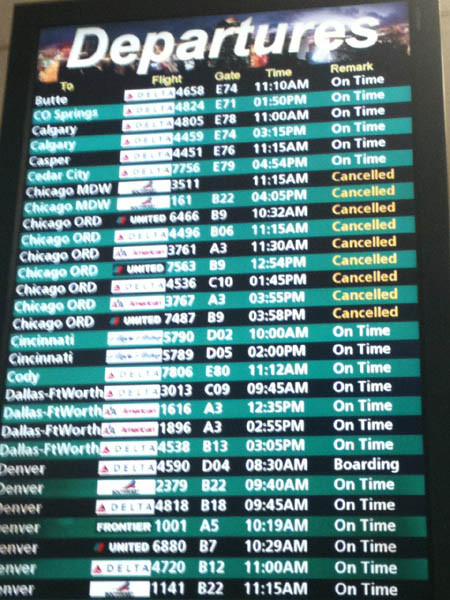 SALT LAKE CITY - More than 40 flights in and out of the Salt Lake International Airport are canceled today because of the heavy snow and strong winds back East.
Christopher and Tracy Polland from Seattle were headed to a funeral in Oklahoma City but have been stuck in Salt Lake since Tuesday at 10 a.m. because of the storm.
"It's kind of heartbreaking," Christopher said.
"It's frustrating," Tracy added. "It's beautiful here but I feel for everyone in Chicago."
Related:
The Pollands were never supposed to come through Salt Lake but were routed here because of the storm. They put themselves up in a hotel room Tuesday night and are hoping to catch a flight out soon.
"It wasn't an airline problem. It was weather related and so that came out of our pocket. We did get a nice little care package from our airline but they wouldn't give us our luggage," said Tracy. "[My] medication and obviously hair products and everything are somewhere in the airport."
Airport spokesperson Barbara Gann says with more than 40 flights canceled people stuck here, but they haven't been hanging around the airport because notifications of cancellations are being made well in advance through the airlines websites and through e-mail and Twitter.
The majority of flight cancellations have revolved around Chicago, but because of all the connecting flights Gann says a cancellation could pop up anywhere.
"Sometimes even if the weather is not impacting that area, if the plane can't get there, if there's no equipment, then that second flight will be canceled too," said Gann. "Across the entire network today it would be advisable just to make sure your plane is going."
E-mail: rjeppesen@ksl.com
×