Estimated read time: 2-3 minutes
This archived news story is available only for your personal, non-commercial use. Information in the story may be outdated or superseded by additional information. Reading or replaying the story in its archived form does not constitute a republication of the story.
Sandra Yi ReportingA van carrying nine children rolled over on I-15 Sunday afternoon, killing the driver.
One witness was so shaken he didn't want to talk on camera, but said this was the worst thing he has ever seen.
Another witness, Michael Chandler, said, "I have my 9-month-old daughter in the car right now, and it's pretty scary to see all the children involved and everything. All I wanted to do was help."
Items from the van littered I-15 at 6800 South. It's a sight Chandler won't forget.
"I think they were all on their way to church," he said. "They've got these paper scriptures and stuff."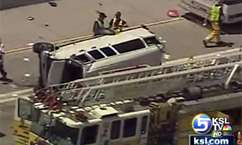 Chandler was driving north on I-15 near 7200 South when he saw the van in the carpool lane lose control.
"It looked like somebody had cut it off. There were some cars pretty close in front, and it swerved to the left and back to the right, and it flipped three or four times," he said.
Another witness saw it hit the cement barrier before it rolled.
"While it was flipping," Chandler said, "I saw one of the little boys hanging out of the window."
Troopers say nine children were inside the van along with the driver, a 35-year-old woman from Midvale.
"I was able to identify right off the bat that the driver was gone," he said.
Another witness, Quinn Carroll, saw a girl, who looked about 10 years old, with her legs pinned. He says there was also a baby in a car seat.
"When I got to the car, some people had already pulled out about five occupants of the car and lined them up against the cement," Carroll said.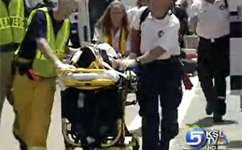 Parts of the freeway were shut down for medical helicopters. Two children were flown to the hospital. The others were taken by ambulance in serious to critical condition.
"It's really traumatic, and my heart goes out to them," Chandler said.
Troopers don't know what caused the van to lose control.
They say the driver appeared to be the only one wearing a seat belt.
×
Most recent Utah stories