Estimated read time: 3-4 minutes
This archived news story is available only for your personal, non-commercial use. Information in the story may be outdated or superseded by additional information. Reading or replaying the story in its archived form does not constitute a republication of the story.
John Hollenhorst Reporting The wildfire in eastern Utah that killed three people is still burning out of control. Sunday night, the governor activated soldiers with the Utah National Guard to help authorities in that area.
Flames from the Neola fire are forcing law enforcement to close so many roads that they need extra manpower. That's what the 100 soldiers from the Utah National Guard will do -- help support state and federal authorities.
Although the fire is still raging, the threat to homes has somewhat diminished. At the moment we don't know how many homes have been lost since Friday. The Uinta County Sheriff said he personally counted five, but it could be more.
A national firefighting team took over today, with the dangerous fire well over 30,000 acres. It's a far cry from the small blaze a local man said he could have easily put out three days ago.
The blaze has started rampaging through forests that are as dry as they ever get. Officials cannot rule out a Yellowstone-type fire that could burn all summer.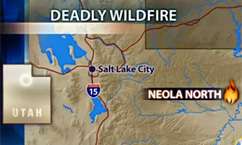 Kim Martin, a fire incident commander, said, "Well, the potential is there. We have dry fuels, there's timber up there that has a lot of beetle kill."
But firefighters have substantially reduced the threat to homes and towns by containing the southeastern flank. One area of at least theoretical concern is Dry Fork Canyon, with 150 homes. It was hit with heavy smoke Saturday.
Chris Parrill lives there. He said, "The smoke, it was just coming. It was actually snowing ash. We had pieces of ash coming down."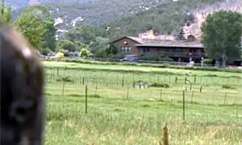 FEMA issued a press release saying Dry Fork could be threatened within two days.
Brendan Parrill, also of Dry Fork Canyon, said, "It would be pretty bad if it lit this hill on fire, because we have that propane tank out here, and it leads into our house. So it would pretty much just blow our house up."
But fire officials downplay the concern. "Again, my operations folks are making a great stride in that north and east part of the fire," Martin said.
Anger rose a bit as some evacuated residents of White Rocks demanded the right to go home.
Gregg Quinn explained, "Our concern is that the fire has passed, and that we want to just go home."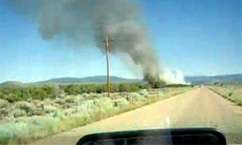 An hour later, officials announced a cautious compromise. Residents of White Rocks could move back in Monday. Other evacuees from a nearby area are being allowed back temporarily to retrieve meat from freezers and other critical belongings.
Sheriff Jeff Merrill said, "Life and safety are number one. We've already lost three people. We don't want to lose any more."
Meanwhile, a Neola man who took photos, says he could have put out the fire when it started. It was the size of a small house. But he and a co-worker were denied access by a Ute tribal member.
Jeremiah Warren said, "I feel a little guilty about it, because I could have stopped it and saved a couple of lives."
The Bureau of Indian Affairs says for safety reasons they never allow untrained civilians to fight wildfires. Firefighting veterans say every fire starts small, and there's always someone who claims it could have been snuffed early.
Still, no one has yet explained what happened Friday morning.
Since the fire broke out on Friday, it has grown very quickly. Here's a recap: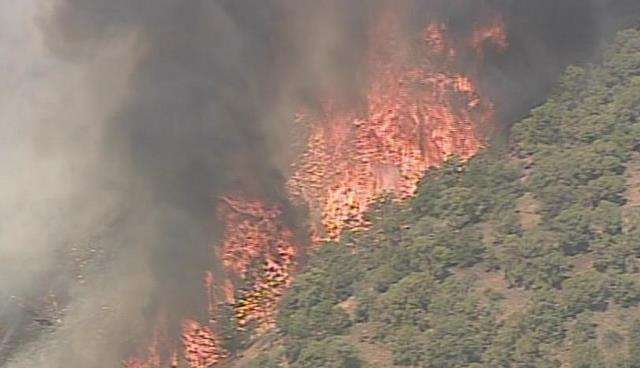 Friday night, the fire had charred about 9,000 acres. Resident of two communities were evacuated. There were no reports of injuries.
Twenty-four hours later, three people had died. The blaze had grown by another 6,000 acres, and was 23 square miles in size.
Overnight the fire nearly doubled in size, to more than 30,000 acres. Many homes are still being threatened and, again, at least five have been destroyed.
Right now, the fire is only 5 percent contained.
(The Associated Press contributed to this report.)
×
Related links
Most recent Utah stories