This archived news story is available only for your personal, non-commercial use. Information in the story may be outdated or superseded by additional information. Reading or replaying the story in its archived form does not constitute a republication of the story.
SOUTH SALT LAKE -- Police in Washington state said Tuesday that dental records are needed to identify a young girl killed during a shootout with police, a task that could take up to two weeks.
Neither authorities in Washington nor Utah could say Tuesday whether the teenage girl killed in front of a Walmart in the town of Port Orchard, Wash., is a missing endangered girl from Utah who ran away from a South Salt Lake foster home.
An autopsy on the girl has been done and officials will not give any more information as to how she died -- only to say that it may take up to two weeks to confirm the girl's identity.
The family of Astrid Valdivia, the missing teen, spoke to KSL News for the first time Tuesday night. They said their grief is compounded by the fact that they have yet to receive a positive identification. However, they said they do have a source within the investigation that tells them the victim is definitely 13-year-old Astrid.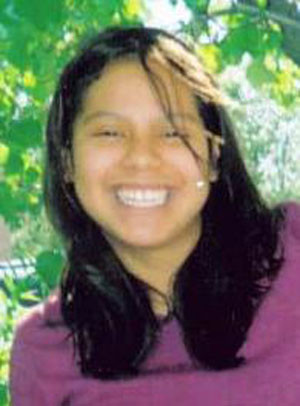 Sunday afternoon, police say Anthony Allen Martinez, 30, shot two Kitsap County, Wash., sheriff's deputies before he was fatally shot by a third deputy.
At some point during the confrontation, a teen girl ran toward Martinez. Witnesses reported seeing the girl run toward the man after he was shot. It was unknown Tuesday whether the girl was shot by police gunfire or by Martinez's gun.
Martinez was charged in October in 2nd District Court in Davis County with child kidnapping, a first-degree felony, after authorities found him in Sacramento, Calif., with Astrid Valdivia, a Clearfield resident who had left a note saying she was running away. Martinez, who was free on $25,000 bail, was scheduled to appear in court Wednesday on that case.
On Jan. 18, Valdivia ran away from her South Salt Lake foster care home. It was clear she had planned it out, said South Salt Lake police detective Gary Keller.
Martinez and Valdivia first met when she was a child of 4 or 5 years old. They did not see each other again until April of 2010 when they ran into each other at the store. After that, Valdivia's family said they had no idea the two were communicating until they ran away together.
When Valdivia returned, she was put into foster care. Her family said it was not because their home was unfit, but because the Division of Child and Family Services thought it would protect her from Martinez.
Last week, Valdivia cut off her ankle monitor and packed all of her possessions. She was last seen about 10 p.m. Jan. 18.
It was unclear Tuesday who issued the ankle tracking device. DCFS does not place ankle monitors on children placed into foster care. However, juvenile court judges can order them for children. Once a court order is given, the agency with custody of the child contracts with providers to monitor compliance, according to court officials.
Valdivia's family said they have had no communication whatsoever with Martinez throughout this ordeal.
"He's not even part of the family, he's not blood, he's nothing to the family. Why would he even have her there?" said Christopher Bateman, a close friend of Valdivia's family. "He has only put her in harm's way."
Keller did not know Tuesday whether Valdivia had been communicating with anyone via texts or e-mails prior to running away. He did not know if investigators had been able to check any of those records as of Tuesday.
Valdivia and Martinez have described their relationship as that of lovers. Before that, the family said she was just your average teenage girl who smiled a lot, liked music, had friends, and was very close with her younger brother and older sister.
For now, Valdivia's family continues to wait for positive identification. If the victim of the shooting is, in fact, Astrid Valdivia, they say they want her body back here as soon as possible so they can lay her to rest and hopefully find peace for themselves.
Meanwhile, the deputies involved in that shootout have been identified.
The deputy who shot and killed Martinez is a 10-year veteran of the Kitsap County sheriff's department, 38-year-old Krista Rae McDonald.
The two deputies wounded in the shoot out were identified as 48-year-old Andrew Paul Ejde and 50-year-old John Roy Stacy. Ejde was shot in the left shoulder and right arm and is at Tacoma General Hospital. He is expected to be released within the next two days. Stacy was wounded in the right shoulder and went home from the hospital Monday.
A donation account* has been set up to help the family of Astrid Valdivia pay for her final expenses. If you'd like to help, you can donate at any Wells Fargo branch under the account name "Jackalyn Rimola."
------
Story written with contributions from Pat Reavy, Sarah Dallof, and the Associated Press.
---
*ksl.com has not verified the accuracy of the information provided with respect to the account nor does ksl.com assure that the monies deposited to the account will be applied for the benefit of the persons named as beneficiaries. If you are considering a deposit to the account you should consult your own advisors and otherwise proceed at your own risk.
×
Related Stories