This archived news story is available only for your personal, non-commercial use. Information in the story may be outdated or superseded by additional information. Reading or replaying the story in its archived form does not constitute a republication of the story.
PROVO - BYU and San Diego State have earned respect around the country. Now the country gets to see them battle each other.
The No. 9 Cougars host the No. 4 Aztecs Wednesday night in one of the most anticipated match-ups of the season.
While a win or loss on Wednesday night won't make or break the season for either team, both teams know there is a lot riding on this game.
BYU on the air
BYU vs. San Diego State
Wednesday, Jan. 26
8 p.m. MT
Marriott Center
Radio: KSL Newsradio 102.7 FM/1160 AM
TV: CBS College Sports
Comcast: 269
DirecTV: 613
Dish Network: 152
Internet: ksl.com
"This game is either going to be an 'I told you so,' or 'Wow, they're really that good,'" said SDSU point guard D.J. Gay.
Not only will the winner validate their top ten ranking but it's also an opportunity to get a leg up in the conference title chase and improve their NCAA Tournament seeding come March.
---
"It's one of the biggest games in Mountain West history and we realize that," said BYU point guard Jimmer Fredette.
---
"It's one of the biggest games in Mountain West history and we realize that," said BYU point guard Jimmer Fredette.
This game has everything you would want in a college basketball game. It features two outstanding coaches in BYU's Dave Rose and San Diego State's Steve Fisher. The Aztecs are 20-0 and ranked 4th in the country while the Cougars aren't far behind with a 19-1 record and a No. 9 ranking.
"I'd rather be playing a team that I knew wasn't real good on Wednesday to be honest with you," said Aztecs coach Steve Fisher. "They're a team that I know is a legitimate Final Four contender in BYU."
BYU Head Coach Dave Rose spoke with a little less hyperbole when describing the Aztecs but clearly understands the challenge his team will face on Wednesday.
"They won 25 games last year and they have all those players back," Rose said. "It's a group right now that is really playing with a purpose, they play together, and they just figure out ways to win games."
Both teams feature star players who have a future in the NBA.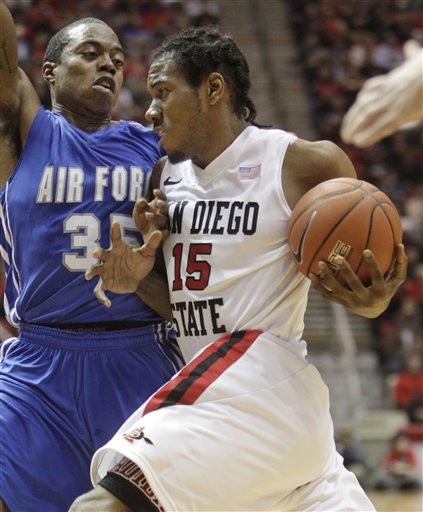 San Diego State's Kawhi Leonard is averaging almost 16 points and 10 rebounds per game. The 6'7" sophomore and former McDonald's All-American is projected to be a lottery pick in the next NBA Draft.
"He's a handful," BYU Head Coach Dave Rose said. "Not only because he's a great rebounder but he's a great scorer. He's really improved his perimeter game."
The Aztecs will have their hands full containing Fredette who is making a case for national player of the year honors while leading the nation in scoring.
"Everybody guards Jimmer Fredette on Wednesday night," Gay said.
This will be a game featuring two contrasting styles. The Cougars want to get out and run in transition while the Aztecs want to make it a half-court game so they can take advantage of their size and strength inside.
"If we can get rebounds and run in transition then I think that will be a key to the game," said Fredette.
"They're going to want to slow it down and we want to push the tempo."
BYU will also have the home court advantage. The game is already sold out and Fisher knows his team faces a difficult challenge facing the Cougars and their 23,000 fans.
"People that know, know that it's an impossible place to play in Provo. It's a very difficult place to play."
It's a big game. The players know it and they embrace the hype and the opportunity to make some noise on the national level.
"There will be a lot of hype in it," said Fredette. "We know that. It's going to be an exciting game, packed house, and it's going to be a lot of fun."
E-mail: jjensen@ksl.com
Twitter: jjsportsbeat
×