Estimated read time: 2-3 minutes
This archived news story is available only for your personal, non-commercial use. Information in the story may be outdated or superseded by additional information. Reading or replaying the story in its archived form does not constitute a republication of the story.
John Daley ReportingMany Americans, many Utahns consider immigration reform a top priority. But that wasn't enough to prevent the bill's demise in the U.S. Senate.
President Bush's plan to legalize as many as 12 million unlawful immigrants, while fortifying the border, collapsed.
Supporters of the bill fell 14 votes short of what was needed to limit debate, and clear the way for passage. But now the issue might not be addressed again until at least 2009.
Reaction in Utah to the failure of the immigration bill is mixed. Utah's senators were split. Reform advocates say they're saddened, while opponents of the bill are taking at least partial credit for its defeat.
Looking at the votes today in the Senate is fascinating, because unlike many votes in congress, many senators on both sides crossed party lines.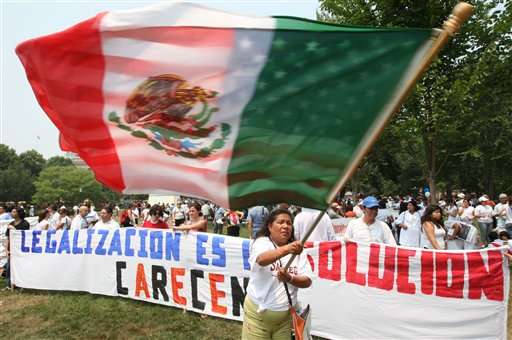 The final tally of the roll call vote on a bill that would provide a path to citizenship of 12 million undocumented immigrants was 46-53. Voting "yes" were 33 Democrats, 12 Republicans. Voting "no" were 15 Democrats, 37 Republicans and 1 independent.
Typical of the division were Utah's senators. Sen. Bob Bennett voted "yes," and Sen. Orrin Hatch "no." Hatch says he's concerned about the status of those allowed to eventually apply for citizenship. Hatch says, "But let's get rid of the amnesty aspects of this bill, and let's work out a bill that would basically allow a guest worker to work. That would please our businesses, it would please our farmers our ranchers, our fruit growers and so forth, but let's not ignore the rule of law."
The vote was a bitter defeat for President Bush, who advocated the bill as imperfect, but necessary. It was a victory for conservatives. Talk radio and some TV hosts attacked the bill and urged listeners to flood congress with calls, faxes and e-mails.
Alex Segura, a member of the Utah Minuteman Project, says, "We're very happy that this senate immigration proposal has gone down in flames. We're very, very pleased with that. We're hoping it will not rear its ugly head another time."
Last year, tens of thousands turned out in Salt Lake and cities around the country to push for reform. "The defeat of this bill means millions of families still up in the air," says James Yapias with Projecto Latino. "We need to still look at what we need to do with the families, and a comprehensive immigration reform needs to take place." Immigration advocates say they plan to try again, and may take to the streets again in a new push.
Both sides predict this issue may be dead until after the 2008 presidential race.
×
Most recent Utah stories