Estimated read time: 3-4 minutes
This archived news story is available only for your personal, non-commercial use. Information in the story may be outdated or superseded by additional information. Reading or replaying the story in its archived form does not constitute a republication of the story.
*Ashley Hayes Reporting*Update:
A broken natural gas line erupted in flames in South Jordan this morning.
The flames shot high into the air. Fire crews evacuated homes in the area and pumped water onto the excavation equipment to save it until the gas could be shut off. One firefighter was treated for heat exhaustion. And a Questar employee had some minor injuries. People have returned to their homes.
---
A gas line rupture leads to a fire in a South Jordan neighborhood. Several homes are evacuated, and two people are hospitalized. It happened at 9800 South and 2700 West.
Apparently, a crew was working on the road and was working on a water main. They hit a natural gas pipe, and that is what caught on fire. There is a natural gas leak. Officials tell us it is under control at this point, though the road between 9800 South and 10400 South is closed.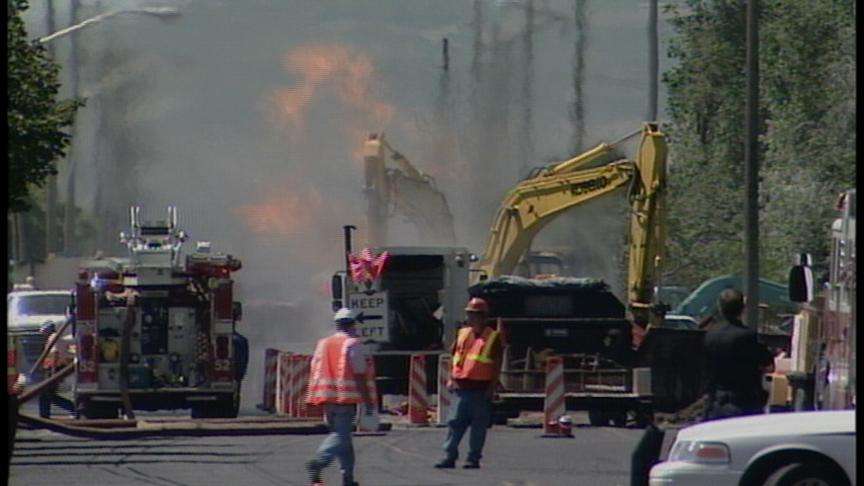 At one point, there were 25 to 35 firefighters on the scene, multiple fire departments and a hazmat crew.
Chip Dawson, with South Jordan Neighborhood Services, says, "At this point, the crews are attempting to clamp the north-end of the two-inch plastic pipe that was ruptured by the construction crew while work working on the waterline. One end has been clamped, and as soon as the second end is clamped, the gas will be completely shut off. At this point, the flames are completely under control, and the temperature is to a manageable point, where fire crews are allowed to come in and to start to investigate."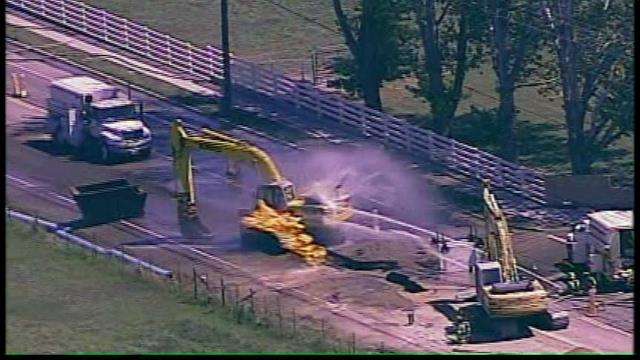 When asked about evacuations, Dawson said, "The message at this point is to stay out as much out of the area as possible. We did evacuate six homes in the immediate perimeter of the fire, and that was done at the direction of the South Jordan Fire Department, mainly as a precaution it make sure those people were able to get out of their homes before something got more serious. I'm not at what point they'll be allowed back into their homes, but I imagine it will be as soon as the road is reopened."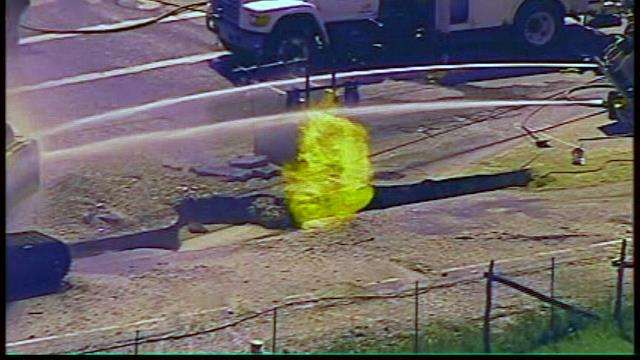 Two people have been hospitalized; one a firefighter from heat exhaustion, the other is believed to be a first responder for Questar Gas. Officials with the gas company say this could have been much worse. Steve Chapman with Questar Gas says, "As long as the location of the leak is known, and the supply of the gas is known, it's a matter of just cutting off that supply. It's, you know, there's potential for danger, but it's much reduced because of those factors."
With concern for people living in the area, officials are asking folks to stay inside their homes. We also understand there are some schools that have been affected. South Jordan Middle School and Jordan Ridge Elementary are in lockdown. It's our understanding that parents can pick up their children.
As far as everything else is concerned, they say they're working on that second clamp, but they believe to have everything under control, and they're just fortunate at this point there was no explosion
×
Most recent Utah stories