This archived news story is available only for your personal, non-commercial use. Information in the story may be outdated or superseded by additional information. Reading or replaying the story in its archived form does not constitute a republication of the story.
SALT LAKE CITY -- Let's say, for a minute, that you are interested in buying a rare collection of Mormon documents.
How rare?
Well, let's just say it is a collection of all the papers of an early member of The Church of Jesus Christ of Latter-day Saints.
How early?
The LDS Church was organized in April 1830. This guy, Reynolds Cahoon, was baptized in Oct. 1830 and died in 1861. He followed the church from New York to Ohio to Missouri to Illinois to the Salt Lake Valley. He was well-known by early church leaders and even participated in plural marriage during Joseph Smith's lifetime.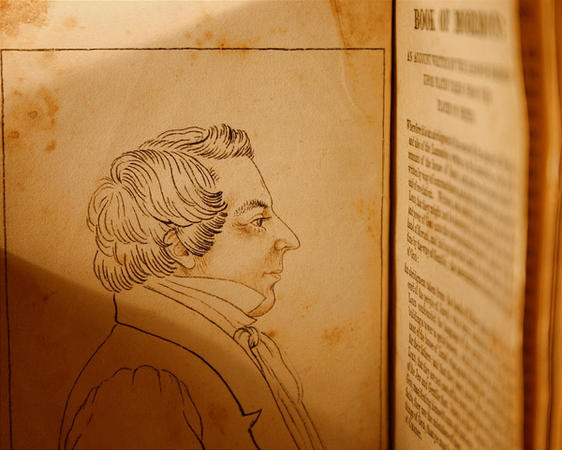 All Cahoon's papers passed down through his family from generation to generation until they were bought by John Hajicek, a collector and discoverer of rare Mormon documents and artifacts. So the documents have a long known history that predates convicted murderer Mark Hofmann's forgeries of Mormon documents. There are 109 items including letters, ordination certificates, diaries and documents signed by Joseph Smith, Oliver Cowdery, Parley P. Pratt and other early leaders of the LDS Church.
Hajicek is selling it right now on eBay for only $1,800,000 (with a 60 day money back guarantee).
According to Brent F. Ashworth, the owner of B. Ashworth's Rare Books and Collectibles, the collection is an exciting group of documents because it is rare to have a complete collection of someone's documents. Nothing stood out to him though as a real "knock out document" that would push the price that high in this economy.
Hajicek, however would point to a manuscript of a hymn written by early LDS apostle Parley P. Pratt — probably the earliest example of his writing. Or maybe what Hajicek calls the "Secret Temple Diary" from the Nauvoo Temple that includes references to ordinances, donations and even a fighting a fire in the temple on Feb. 9, 1846.
An 1841 letter from Clarissa Tyler to the Cahoon family asks them to "Give my love to Br. Joseph and Sister Emma. Tell them that I request an interest in their prayers together with yours. Tell Br. Joseph that I have thought if I could have his prayers and hear that hearty amen that I have heard on former occasions for Mother Rigdon I should be restored to my health and the spirit of the Lord would attend it."
In addition to the Cahoon collection, Hajicek is also selling three different copies of the 1841 edition of the Book of Mormon — one of which has what Hajicek says is the earliest portrait of Joseph Smith in existence drawn from life. That portrait was drawn by Sutcliffe Maudsley and is selling for $999,000 (with free shipping no less).
Finding buyers for these items may be difficult due to the recession, Ashworth said.
"Even the big players have been dumping their stuff," Ashworth said. "It's hard to find deep pockets."
Hajicek said there are about 24 people who are buyers of this sort of expensive Mormon collection — most of whom he said live in Utah, Arizona, California and Nevada. Offering it on eBay, however, is a bit of marketing on his part — trying to recruit new buyers. "This item will sell for about 20 percent less than the price on eBay," he said.
He also said rare Mormon items are a "safe haven" in this economy. "They've stayed strong in terms of their price." Ashworth, isn't quite as optimistic.
"The collection has some great autographs, I just not sure if it has the content for this price," Ashworth said. "If he got an offer for half that he should jump on it."
Hajicek, however, knows this collection is one of a kind. For him the most fun of collecting is the thrill of discovering items. "I like to make a once-in-a-lifetime discovery once a month," Hajicek said. "I have a good eye for seeing value that others have overlooked."
E-mail: mdegroote@desnews.com
×