Estimated read time: 3-4 minutes

This archived news story is available only for your personal, non-commercial use. Information in the story may be outdated or superseded by additional information. Reading or replaying the story in its archived form does not constitute a republication of the story.

SALT LAKE CITY -- Former Senate Majority leader Sheldon Killpack pleaded guilty to driving under the influence in Salt Lake County Justice Court Wednesday.

In exchange for pleading guilty to the class B misdemeanor DUI charge, an additional charge of failure to stay in one lane -- a class C misdemeanor -- against Killpack was dismissed.

When asked by the judge if he understood what the plea meant, Killpack said, "I do."

**Who is… Sheldon Killpack?**

![](http://media.bonnint.net/slc/1711/171130/17113033.jpg)• A Republican member of the Utah State Senate, representing the 21st district in Syracuse • Senate Majority Leader; elected Nov. 7, 2008 • Vice President of [Academica West](http://www.academicawest.com/), which manages the establishment and operations of Utah charter schools. • A husband and father of four children • Attended Layton High School • Earned a Bachelor of Science degree from Weber State University

His attorney, Ed Brass, told the judge Killpack's was a "pretty standard first-time offense" and pointed out that his client had no criminal history.

Killpack, 42, was immediately sentenced to 180 days in jail, with all of the time being suspended. He was sentenced to one year of probation and will be required to perform two days of community service and pay $1,350 in fines.

He was also ordered to take at least 16 hours of DUI treatment classes and take part in a victim impact panel within 100 days.

"It's a simple resolution and some of the credit for that goes to the district attorney's office, particularly the new administration," Brass said. "I think in the end they treated him relatively fairly -- maybe not quite as fairly as I would have liked to see him treated, but I don't think it's an unfair resolution."

Facebook User Comment

"He says 'He didn't have grounds to pull him over.' The legal limit is a blood alcohol of 80. His was 110, so regardless, he was drunk and should not have been driving. Senate leader or not, that's no excuse!!" -- Wendy Crosbie Christensen
Comment on Facebook
District Attorney Sim Gill calls the deal a "win-win" for the public, saying, "We got accountability for an important violation and Mr. Killpack got to put it behind him."
Outside the courtroom, Killpack left the building without making any comments to the media, though he stopped to offer a hand to a news photographer who'd taken a spill.
Brass said he still believes the initial traffic stop was unlawful and was prepared to take the case to trial, but said having "his name drug through the mud" was difficult for his client.
"(Killpack) needs to have this behind him, and it's behind him," he said. "He has a really positive attitude. I've never seen someone handle a situation like this better. He's a real gentleman."
Brass said the plea deal was brokered with the help of the new administration in the Salt Lake County District Attorney's Office.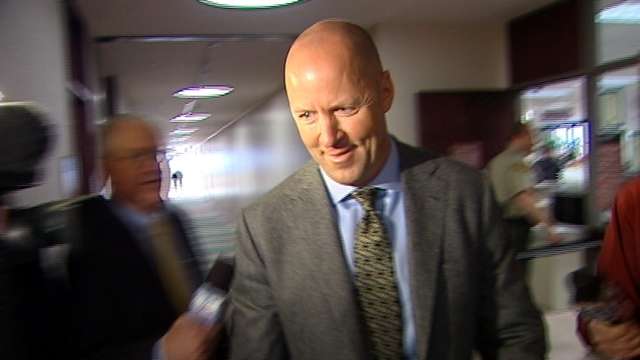 "It's a simple resolution," Brass said. "I think (the district attorney's office) treated him relatively fairly."
Killpack's plea came a year and four days after he was pulled over near 700 East and 3300 South and "performed poorly" during field sobriety tests.
Killpack admitted to having a blood-alcohol level of .11 at the time. The legal limit is .08.
Killpack had argued that the officer who pulled him over did not have any legal grounds to make a traffic stop. But in September, Salt Lake County Municipal Justice Court Judge Shauna Graves-Robertson disagreed.
Killpack resigned from the Utah Legislature the day after his arrest.
Because he refused to take a breathalyzer test, Killpack's driver's license was suspended for 18 months. Brass said Killpack should have his driving privileges restored in August.
Story written by Emiley Morgan with contributions from Andrew Adams and John Daley.
×
Related stories
Most recent Utah stories