Estimated read time: 7-8 minutes
This archived news story is available only for your personal, non-commercial use. Information in the story may be outdated or superseded by additional information. Reading or replaying the story in its archived form does not constitute a republication of the story.
FT. BRAGG, N.C. — When Justin Griffith, an Army sergeant at Fort Bragg in North Carolina, saw his results from the Army's mandatory Spiritual Fitness Test, he pounded his fist. Even though he was at work, he loudly read the assessment as other members of his unit gathered around to see what the commotion was.
"You may lack a sense of meaning and purpose in your life," Griffith read from the assessment.
"Really?" Griffith said back at the computer.
"At times, it is hard for you to make sense of what is happening to you and others around you," the assessment said.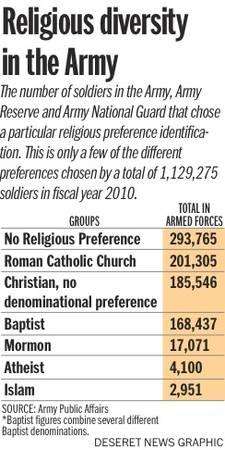 "Really?" he said again.
"You may question your beliefs, principles, and values," the assessment said.
But the things Griffith really questioned were whether it was possible for an atheist like himself to even pass a Spiritual Fitness test and whether the test violated the Constitution.
Before he took the test, Griffith was already organizing an atheist celebration at Ft. Bragg called Rock Beyond Belief. He put that together in response to the "Rock the Fort," event put on by the Billy Graham Evangelistic Association at Ft. Bragg in September.
After he took the test, Griffith hooked up with Mikey Weinstein, the president and founder of the Military Religious Freedom Foundation, which describes itself on its website as a "nonprofit charitable foundation he founded to directly battle the far-right militant radical evangelical religious fundamentalists."
The foundation is helping Griffith and 219 other soldiers — including Christians — in a potential lawsuit to force the Army to remove the Spiritual Fitness section from the mandatory Comprehensive Soldier Fitness test. They feel that the Spiritual Fitness section violates the Constitution's Establishment Clause and the No Religious Test clause.
The Spiritual Fitness test is part of a larger Comprehensive Soldier Fitness program used by the Army to enable "soldiers, family members and Army civilians to more easily manage various physical and psychological challenges in their personal and professional lives along the five specific dimensions of strength: physical, emotional, social, spiritual and family," said Army spokesman Lt. Col. Freddie Mack in a prepared statement.
He said those five dimensions — including spiritual — came from the World Health Organization. Part of the reason the program was created was to help reduce instances of Post-Traumatic Stress Disorder or PTSD. Since it was launched in Oct. 2009, more than 900,000 soldiers have taken the Comprehensive Soldier Fitness test.
One question on the Spiritual Fitness part of the test asks soldiers to rate a series of statements on a scale that ranges from "Not like me at all" to "Very much like me." The statements include:
I am a spiritual person.
My life has a lasting meaning.
I believe that in some way my life is closely connected to all humanity and all the world.
The job I am doing in the military has lasting meaning.
I often find comfort in my religion or spiritual beliefs.
I believe there is a purpose for my life.
Griffith said it was difficult to answer questions like these honestly as an atheist and still pass the test. The statement about being connected to all humanity, for example, stymied him. "That question to me sounds like 'Me and my closest six billion friends are hanging out playing Nintendo,'" Griffith said with a laugh.
Another problem for Griffith, who said he is not speaking on behalf of the Army, are the Spiritual Fitness training modules — one of which took the ritual of folding the flag and assigned Christian religious meaning to every fold. That particular reference is now gone, but much religious imagery remains. The poster that promotes the Spiritual Fitness part of the program features a photograph of a group of soldiers with the heads bowed and holding hands in a circle.
A letter sent to the Army by Weinstein's foundation attorneys, Jones Day, said the test fails to pass Constitutional muster because, "Soldiers who hold deep religious convictions routinely pass the spirituality component of this test while atheists and nonatheists do not."
Griffith emphasizes that he loves being in the Army and working with his unit at Ft. Bragg. He also thinks the overall purpose of the test is good. But what he doesn't like is what he feels is the Spiritual Fitness portion's unspoken assumption: An atheist is not fit to be a soldier.
Weinstein also likes the test's goals: "The Army has a pandemic of suicides. Trying to find a way to stop suicides: Great idea. Trying to argue that the reason we have suicides is that don't have enough of the right kind of Jesus: Not the right kind of idea."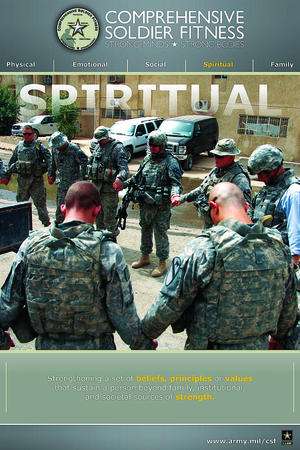 To Weinstein, the word "spiritual" is a code word for "fundamentalist Christian."
To him it isn't just a question about a test gone astray, it is part of a pattern of abuse that he pins on what he likes to call the "draconian fundamentalist Christian parachurch-military-corporate proselytizing complex." Or, in other words, fundamentalist Christians are trying to take over the military.
It wasn't long before Weinstein was on MSNBC's "Countdown with Keith Olbermann," which dubbed the controversy as "Don't ask, don't doubt."
It also wasn't long before Weinstein's foundation had their attorney send that letter to the Army demanding them to stop giving the Spiritual Fitness component of the test by Jan. 20. "We are fully prepared to go to federal court with hammer and tongs because it is the only thing they understand," Weinstein said. "They are not going to contain this imperious fascistic contagion of this fundamentalist Christian tsunami that is sweeping through the military. And this Soldier Fitness test is just the camel's nose under the tent."
Weinstein is sure fundamentalist Christians are behind the implementation of the Spiritual Fitness test. "There is absolutely no doubt where this is coming from," he said. "We smell this disgusting stench over and over again."
But who created the Comprehensive Soldier Fitness test and whether its Spiritual Fitness section needs to be addressed are different issues.
Christopher Peterson is a professor of psychology at the University of Michigan and was the person who chaired the group of experts that assembled the test. The process was collaborative, drawing on psychological research from many sources and many people — including the five categories taken from the World Health Organization.
Like Weinstein and Griffith, Peterson has some difficulty with the word "spiritual." "I wish there was a better term than spiritual. It's not a great term. And that is what this brouhaha is all about," Peterson said. "The world spiritual sets them off."
Peterson defines the word as "meaning and purpose." "The army is trying to measure if the soldier has meaning and purpose in life," Peterson said. "You can't call it 'Meaning and Purpose Fitness' because that an awkward phrase — but that is what it is all about: 'Do you see yourself and your mission in the Army as serving some purpose larger than yourself?' That's all it means." Peterson said perhaps some statements in the test could be improved, but he doesn't think that there should be a problem as it stands. "I call myself an agnostic," Peterson said, "and I would score very high on the meaning and purpose items. It has nothing to do with religion."
Peterson also wrote the automatic feedback that apparently troubled Griffith. "Everybody involved in all of this is not doing it to upset anybody," Peterson said. "I'm sorry people are offended by this. That was hardly our intention."
If the test is part of an alleged pattern of abuse, as Weinstein says, by fundamentalist Christians, it is news to Peterson. "If there is this widespread conspiracy it is very hidden because I am not aware of it. I couldn't even tell you the religious beliefs or not of the people of whom I've been working, but I strongly doubt there have been any fundamentalist Christians that have been involved in this. I could be wrong, I don't know. It hasn't come up."
E-mail: [ mdegroote@desnews.com](<mailto: mdegroote@desnews.com>)
×