Estimated read time: 5-6 minutes
This archived news story is available only for your personal, non-commercial use. Information in the story may be outdated or superseded by additional information. Reading or replaying the story in its archived form does not constitute a republication of the story.
OREM — There has "never, ever been a better time in history to develop a healthy intimate relationship," said a licensed marriage and family therapist to single adults gathered at Utah Valley University on Saturday evening.
"On the flip side, we also live in a time when there have never been so many challenges to forming and maintaining intimate relationships," said Jill C. Manning, who has testified before a U.S. Senate subcommittee on the harms of pornography and is author of the book, "What's the Big Deal about Pornography: A Guide for the Internet Generation."
Manning and Dan Gray, a licensed clinical social worker and clinical director of the LifeSTAR Network, spoke to single adults about successfully preparing for marriage given the prevalence of pornography and other negative influences that affect today's dating culture.
The event, titled "A Message for Singles: Preparing for Healthy Intimacy in a Sexually Toxic Culture," was sponsored by S.A. Lifeline — a Utah County foundation established to support, educate and help those struggling with pornography addiction.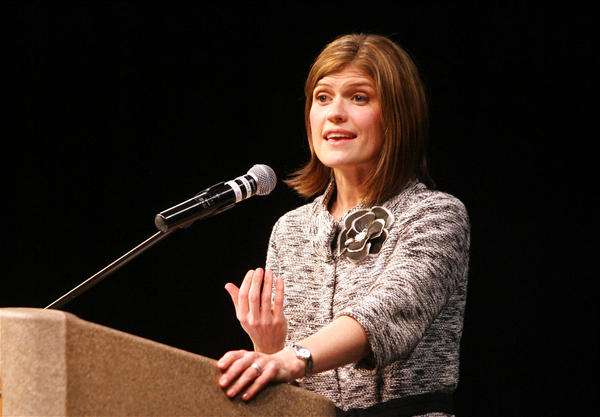 During her remarks, Manning told hundreds gathered in the Grand Ballroom of the UVU Student Center that learning what it takes to have a healthy, intimate, authentic connection with someone is one of the most important things they can engage in.
"Every single one of us is wired and designed to connect successfully with another person," she said. "However, there are things like mistakes, weaknesses, even sins … that get in the way and dampen and suppress who we really are and who we can be to, and for, someone else."
Manning said perfection is not a prerequisite for forming a healthy relationship. However, she added, honesty, trust and being trustworthy, and respect and being respectable, are prerequisites for healthy intimacy.
---
Every single one of us is wired and designed to connect successfully with another person. However, there are things like mistakes, weaknesses, even sins … that get in the way and dampen and suppress who we really are and who we can be to, and for, someone else.
–Jill Manning
---
"I have come to believe that many people simply have never been taught the difference between a healthy relationship and a toxic relationship," Manning said.
Speaking directly to women, Manning said three lies or stumbling blocks often apply to women attempting to form healthy relationships.
1) Women feel pressure to misrepresent and even lie about who they really are, because they are eager to form relationships and get married. Women do not need to lower their standards to meet a partner, and if they do they will not find the husband they are looking for, she said.
2) Some women are fearful to ask a serious dating partner direct, open questions about various aspects of life, like pornography. "We need to do that: Ask more questions," she said.
3) Manning said she has seen a trend of women accepting pornography as "simply a bad habit that all guys are into." Pornography, she said, promotes hated and violence against women. "When we accept it or engage in it in any way, we are literally supporting an evil, global web of organized crime, abuse, drugs, prostitution, sex trafficking and the list goes on and on."
Manning said there are those who say that pornography is a teacher, a substitute or a preparation for marital intimacy. "I am here to say they could not be more wrong."
Healthy sexuality, she concluded, "is associated with life and joy."
Gray told the audience that he hopes to give them skills to navigate the difficult waters of intimacy. "There is a tremendous need for honesty and openness when it comes to these issues," he said.
Gray told those not struggling with pornography to find a way to stay away from it. To those who are struggling with a pornography addiction, he said, there is a way to overcome. "This is healable," he said.
He spoke of the acronym BLAST — bored, lonely, angry, stressed or tired — and said these are some of the reasons young men turn to pornography.
"It provides an escape, for a brief moment, where he doesn't have to deal with the issues in his life."
Because of this, Gray said, when someone is viewing pornography, therapists are not just helping them find abstinence and sobriety, but also "a change of life where we are able to live life in a healthy manner."
Fighting the battle, however, is worth it, he added. "Some of the best people I know are those who have had to fight this fight," he said.
So, he asked the single adults: "How do we navigate these dangers waters?"
Speaking directly to the men in the audience, Gray said sexuality creates bonding. "Our sexuality and our attraction to another person can be very much like a pathway," he said.
This pathway, he explained, begins like a deer trail and over time becomes much wider and deeper. "That is what happens in the neural pathways of the brain."
If those pathways are formed too early in a relationship it creates disillusionment, pain and hurt, he said.
Pornography is "an artificial bond that distracts and pulls us away from a real relationship we are trying to nurture. Many women (spouses of pornography addicts) we work with often report: 'I just don't know this guy. He seems to be somewhere else.'
"Indeed she is right. The women feel it, men. They know when there is this disconnect. They know when there is this feeling of disattachment because those pathways are being sent somewhere else."
He said the time for being passive is over. "If you haven't found your partner, she is out there somewhere. … Why not vow now to her that you will not look at other women to lust after, that you will not look at pornography and disqualify yourself to be the man she is looking for. Make a vow now before you make a vow to her. Be the man you need to be."
E-mail: sarah@desnews.com
×
Related links
Most recent Utah stories