Estimated read time: 1-2 minutes
This archived news story is available only for your personal, non-commercial use. Information in the story may be outdated or superseded by additional information. Reading or replaying the story in its archived form does not constitute a republication of the story.
Sandra Yi ReportingCurtis Allgier was featured recently on an episode of the MSNBC program "Lock-up." He talked about his background, his affiliation with the skinheads, even his tattoos.
"My whole family was skinheads," Allgier said on the program. "I was raised that way. My dad, my uncles, all my cousins. I've been getting tattoos since I was 13 years old. Once you start getting tattoos, it's addicting. The ink's addicting, the pain to an extent to me is addicting."
This episode, which focused on the Utah State Prison, aired last week.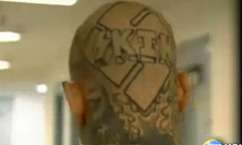 "A lot of people see the swastika and they say, 'Well, that's hate.' To me, that's not what I wear it for. I wear it as a symbolism of pride, of who I am, and a symbolism of good luck. And I have a lot of them," he said.
At the time, Allgier was serving a one-to-15-year sentence for burglary, forgery and escape. Recently, Allgier was charged for being a felon in possession of a firearm. In court documents, his attorney argued for a lighter sentence, asking the judge to consider Allgier's history. She wrote, "... Allgier was born into white supremacy, and only followed the examples set by his father and other family members."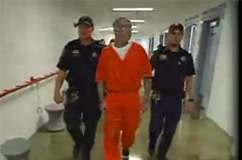 On June 7, a federal judge sentenced Allgier to nearly nine months in prison, and recommended he serve it in a federal facility in Indiana or Wisconsin.
Also, we did some investigating and learned this about Curtis Allgier:
He was once named Utah's Public Enemy Number One for violating parole, before authorities caught him last year. He had been arrested for carrying a concealed weapon and escaping custody.
×
Related links
Most recent Utah stories