Estimated read time: 2-3 minutes
This archived news story is available only for your personal, non-commercial use. Information in the story may be outdated or superseded by additional information. Reading or replaying the story in its archived form does not constitute a republication of the story.
John Hollenhorst ReportingA Salt Lake City man drowned this afternoon while swimming with friends at East Canyon Reservoir.
"If you look at that rock ... it probably isn't far. I don't know how many times he made it to it before, but this time he didn't," authorities said.
The victim has been identified as 24-year-old Joseph Anthony Vargas. It's a bit of a mystery why Vargas went under. A possibility is that it was a deadly combination of exhaustion, dehydration, cold water, and possibly alcohol.
This incident occurred on the Wasatch Back, just a few miles from Salt Lake City. It's a popular swimming and boating area at the reservoir.
The drowning took place along the shore. The rock is a swim of 30 yards or so, and for some reason Vargas just didn't make it.
Volunteer divers probed the reservoir for about two hours Sunday afternoon. They focused their search between the massive rock and shore.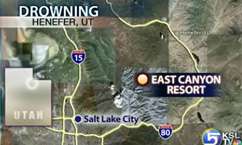 Vargas was swimming with friends. They went back and forth to the rock a couple of times in the morning. On a return trip just after noon, something went wrong.
Chief Deputy Kevin Edwards, of the Morgan County Sheriff's Office, said, "He probably got within 10 feet of the rock and started yelling for help. They tried to get to him before he went under. Just as they reached him he went under the water."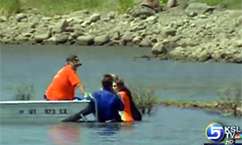 Divers found the victim a couple of hours later. His body was submerged in murky water about 15 feet down.
Vargas's mother arrived during the search. One of Vargas's brothers was there when he went under. Authorities say his friends gave statements indicating they'd been camping and Vargas drank two or three beers.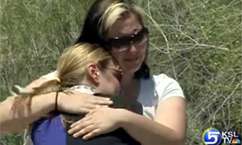 Edwards said, "With the sun and alcohol, that may have had a contributing factor. I'm sure he got dehydrated. Then, I don't know how many times he'd been swimming. I'm sure he was tired."
"I don't know how much sleep he'd had, if they'd been camping overnight," Edwards said. "So, if he was tired, I'm sure that water is pretty cold. So I'm sure all those contributing factors led to that."
A man who swims regularly to the rock, Earth Storm Jacobs, says people often misjudge the size of the rock and the distance to the shore.
"If you're not prepared for it, you're out of breath getting there, you jump off and you come back a couple of times. The water gets really cold if you're not wearing a wet suit. It would be pretty tough for you," he said.
One official said it's a mistake people commonly make: overestimating their own capabilities when they're tired and dehydrated. In this case, in cold water it was a deadly mistake.
×
Most recent Utah stories